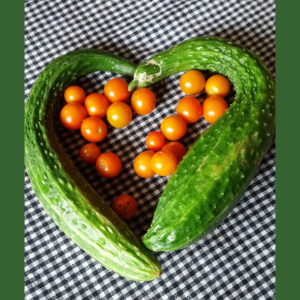 The Why?
There are probably more than 100 reasons why to eat more vegetables. I don't want to get boring or teachy-preachy, though. So, I'm going to boil it down to 10 quick reasons why:
1.Colors  2. Flavors  3. Crunch  4. Creamy  5. Sweet  6. Delicious             7. Filling  8. Fun shapes  9. Inexpensive  10. Nutritious
The How?
There are at least 50 ways to eat more vegetables. Here are 10 of my favorites:
1. Add some sliced cucumbers to your breakfast.
2. Pack a big handful of carrots, radishes, celery into your lunch.
3. Keep a couple cans of tomato juice or V8 in your office for snacks.
4. Convince your boss to have a big vegetable tray – with hummus – at every office meeting or party.
5. Drop into your local farmer's market once a week and buy some tasty, dinner vegetables.
6. Cook a veggie omelet for dinner once a week and go heavy on the veggies.
7. Build a big, leafy salad twice a week and keep it in the fridge to use quickly for lunch or dinner.
8. Learn to make a vegetable soup and put it into your meal rotation.
9. Celebrate vegetables once a week by making a vegetarian dinner like light spinach lasagne or bean & sweet peppers chili.
10. Pick out a new vegetable to try each season of the year. For example, Brussels sprouts in fall; turnips in winter; beets in spring; and all varieties of tomatoes in summer.
Feel Better with More Vegetables
Eating more vegetables will give you a burst of nutritious energy, so please give it a try. For a couple of handy kitchen resources to help you move toward more vegetables every day, grab a copy of my easy vegetarian recipes e-book or my Need Help Mom? Book, with an entire chapter on tips for getting kids to eat more vegetables.
Which new vegetable(s) do you want to try this week?