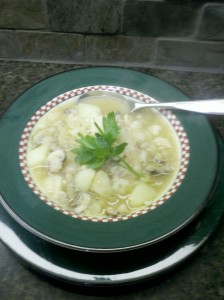 Soup is a Great Meal for a Cool Day!
The first time I ever ate this soup was at a cafe just around the corner from the world-famous Postojna Caves in Slovenia, Eastern Europe. It was fall and the air was brisk. All that mattered, though, after touring those spectacular caves, was that soup sounded like the perfect lunch.
Slovenian Sauerkraut & Potato Soup Recipe!
Makes Enough for 4 Soup Lovers
Ingredients You Will Need:
1 tablespoon Olive Oil
2 large cloves Garlic, minced
1 small onion, chopped
6-8 Mushrooms, sliced
2-3 medium Potatoes, peeled, cut into small cubes
1 cup Sauerkraut (in a can or homemade), drained of juice, save the juice
1 cup Water
1 cup Vegetable broth
1 cup White beans (in a can or cooked from dry), drained of liquid
1/4 teaspoon Ground black pepper
Fresh parsley for garnish
How to Make the Soup:
1. Saute the garlic, onion, mushrooms in the olive oil over medium heat until all are golden and soft, about 5-8 minutes.
2. Place potatoes in a small pan and cover them with water. Add a lid and bring to a boil, then simmer until soft, about 12-15 minutes.
3. Add drained sauerkraut to water and vegetable broth in a medium to large soup pot and heat to medium until it simmers. Add sauteed vegetables from step #1 and stir. Also, add drained white beans and stir.
4. When potatoes are cooked, drain all their cooking water out and add potatoes to the soup pot.
5. Using a fork or spoon, smash up some of the potato cubes to help thicken the soup.
6. Season with ground black pepper and about 2 tablespoons of the sauerkraut juice that was saved. Garnish with parsley.
Go For Soup as part of your Healthy Lifestyle!
Soup made from fall vegetables and broth is such a tasty and healthy comfort food and it's not hard to make yourself. So, take the leap, get out your soup pot and get cooking. Then, enjoy the satisfaction that you made it! I have many easy-to-fix recipes and meal plans in my e-book bundle. You can do it!
What fall soup is your favorite?