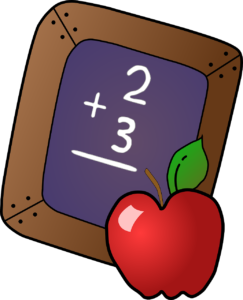 School Success is Linked to Nutrition Success
Parents and kids are getting fired-up for a new school year. There is so much to learn for everyone and, for parents, how to pack up a tasty and kid-pleasing lunch is one top priority.  Check out my earlier blog about school success and nutrition success going hand-in-hand. And, here are 5 tips to get parents going in the right direction from planning to grocery store to school cafeteria for your kids.
Tip #1: Make a weekly plan – before Monday morning. Set aside time to plan what you'll need for 5 days of tasty, nutritious lunches for your kids. Try to include a fruit, vegetable, grain, protein and dairy food with some creative touches. Here are some easy ideas.
Tip #2: Make a grocery list for school lunch ingredients. Add on to your weekly, family grocery list or make a separate list. Bring your school age kids to the grocery store and get them shopping for school lunches – sticking to the pre-planned list.
Tip #3: Make time for lunch packing. Allow time to pack, whether it's the night before or the morning of each school day. Usually, it's less stressful to pack the night before.
Tip #4: Make food safety & the Earth priorities. Invest in a reusable lunch bag or bento box, water bottle and ice pack – and then use them day-after-day. Let your kids know they are helping the Earth at lunchtime.
Tip #5: Be a good nutrition role model. Kids watch their parents as they learn lifelong habits. Show your kids that good nutrition matters by putting healthy, balanced meals and snacks into action every day at home.
Life Success Goes Hand-in-Hand with Nutrition Success
Kids are inspired by caring parents to be their best selves. To be the inspiration you want for your kids, make a stand with good nutrition. As my parents used to say, Actions speak louder than words. So, be a role model who eats a healthy breakfast, packs up a healthy lunch, stocks up for healthy after-school snacks, and plans a balanced family dinner. Get going with my meal planning and recipe booklets at the EStore. And, be sure to sign up for my free report, too.
What will your school age kids enjoy in their school lunch bag this year?