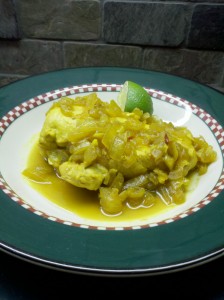 A Healthy Chicken Breast Recipe is Precious!

With all the nutritional advantages of eating lean protein, I think chicken is a really smart choice for the dinner meal. But, wait, this recipe isn't like all the others. It's a healthy chicken breast recipe that is a little exotic, a little gourmet and a lot of great flavors to enjoy! So, don't take my word for it – try it yourself and let me know how it goes.
Tangy Lime Chicken
Here's a healthy chicken breast recipe that will please all members of the family!
Kids can help by measuring ingredients, stirring together spices and squeezing limes, with supervision.
Makes 6 servings
6, 4 oz                   Chicken breasts
2 tablespoons   Olive oil
1 large                  Onion, peeled and chopped
2-3 cloves            Garlic, peeled and minced
¼ tsp                     Red pepper flakes (optional)
1 teaspoon         Ground cumin
1 teaspoon         Ground coriander seed
½ teaspoon        Turmeric
¼ cup                    Soy sauce, reduced-sodium type
3 medium           Limes
Heat a large skillet or frying pan on the stove top to medium high.
Add oil then add chicken, turning chicken to brown all sides, about 4-5 minutes.
Add onion and garlic to the skillet, too, allowing onion to wilt about 2-3 minutes.
Add spices, all mixed together – red pepper flakes, cumin, coriander and turmeric – and soy sauce. Stir a little to combine flavors.
Add the juice of 1 lime.
 Reduce the heat to medium low, cover with a lid and cook until chicken is done, about 15-20 minutes.
Cut remaining limes into quarters. For each piece of chicken served, squeeze on a little lime juice and serve with one lime quarter.
Nutrition per serving: 240 calories; 8 gm fat; 1.5 gm saturated fat; 0 trans fat; 90 mg cholesterol; 430 mg sodium; 5 gm carbohydrates; 0.5 fiber;  33 gm protein; 2% DV vitamin A; 10% vitamin C; 4% DV calcium; 10% DV iron
Money Saving Tip: Buy the 'family pack' of chicken breasts for this recipe when they're on sale.
Time Saving Tip: Chop the onions, measure and mix the spices the night before making this recipe.
Cooking Tip: Try making this recipe with chicken thighs or legs after carefully removing the skin and extra fat.
A Healthy Chicken Breast Recipe is a Starting Point!
If you're ready to enjoy homemade flavors then you'll want to gather a few simple and nutritious recipes. This Tangy Lime Chicken Recipe is a great starting point along with this Green Peppers and Lean Beef Recipe. For more easy-to-use and affordable menu and recipe booklets, click here.
What is your favorite Healthy Chicken Breast Recipe?