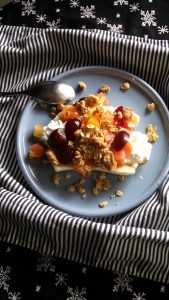 Discovering a Healthier Banana Split
Take it from me, there is a twist on the traditional banana split that you need to try – immediately. When I needed to use up a ripe banana a few nights ago, I hit the jackpot of delicious, nutritious and fun. Isn't it funny how impromptu can turn out so well?!
A Banana Split can be Breakfast, Snack or Dessert
For breakfast, this banana split with a healthy twist will do the job. Filling and good for your body, it will give you energy and focus all morning. For other options on healthier breakfast choices, here is my earlier blog called, Healthy Breakfast Recipes. And, you'll want to check out Kaylie's guest blog called, Healthify Your Breakfast, too.
For snack, this banana split with a healthy twist is amazing. If you have kids, get them involved making their own snack after you put out the ingredients. It's so much fun and energizing for the afternoon. No growling tummies.
For dessert, this banana split with a healthy twist is unique. Healthier, yes, as well as full of flavors and textures.
Banana Split with a Healthy Twist Recipe
Serves 2, with 230 calories + 14 grams protein in each serving
Ingredients to assemble: 1 medium banana; 1 cup non fat or low fat cottage cheese; 1/2 cup diced canned fruit in 100% juice; 6 grapes cut in half; 1/4 cup oat granola, with or without nuts
How to: Peel the banana and cut in half. Cut each half in half, lengthwise, and put onto a small plate or bowl. Spoon 1/2 cup of cottage cheese into the middle of bananas on each plate. Top each with 1/4 cup diced fruit, 3 cut grapes and 2 tablespoons oat granola.
Be Open-Minded to Healthier Options
There is always a way to 'twist' a traditional recipe into something just as tasty, yet healthier. Challenge yourself to find the magic and make the 'twist' so that you and your family eat well and stay healthy. My e-books are full of meal plans and healthier recipes for you to own and use as a quick reference – and a reminder to make the 'twist' every day!
Will a banana split with a healthy twist fit into your recipe collection?