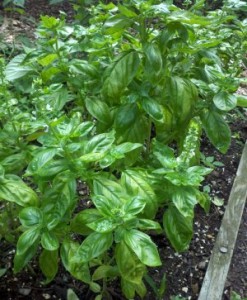 Versatility of Fresh Basil
One super-fresh flavor of summer is the herb, basil. I've grown it in a sunny place in my yard for probably 15 years, or more. It's easy to grow, full of wonderful flavor and it keeps on growing-and-giving as you pick it throughout June, July, August and September. Here's a fun look at how versatile fresh basil is.
3 Easy Basil Recipes
1. Watermelon with Fresh Basil: Cut fresh basil leaves into very thin slivers and sprinkle on top of cut-up, fresh watermelon.
2. Italian Panini Sandwich: Layer thin sliced prosciutto, Mozzarella cheese, tomato slices and fresh basil leaves onto a bakery roll, to make a sandwich. Warm and press in a panini press, waffle iron or skillet on the stove.
3. Fresh Basil Pesto: Combine these in a food processor (or very good quality blender) – 2 cups packed down fresh basil leaves, 4 cloves peeled and chopped garlic, 1/4 -1/2 cup grated Parmesan cheese, 1/4 cup walnuts, 1/4 cup olive oil, 1/4 teaspoon salt. Process until smooth. Mix prepared pesto with hot, cooked spaghetti. Or, spread it on your pizza or sandwich.
Get into Your Kitchen Now!
For ongoing ideas of tasty, simple recipes and meals that fuel your energy, please LIKE my facebook page and join the conversation. To take one more step toward your overall good health, INVEST in my e-book bundle. This 3-book collection offers simple, nutritious meal plans and family-friendly recipes that everyone can make.
What's growing in your fresh herb garden this summer?