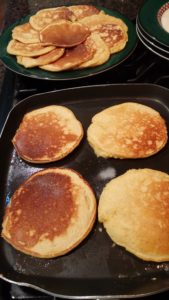 Is it Breakfast or Is it Dinner?
It's both! Breakfast means the morning meal. Dinner means the evening meal. So, why not flip the clock and eat breakfast foods for dinner? Breakfast-for-dinner seems to be a well-liked solution for singles, families with kids, and busy professionals and so I recommend it frequently to my private clients. The time spent cooking is typically short, the side items are simple, and the flavor results are truly satisfying. Here is an earlier blog about healthy breakfast recipes to help get you started. The recipe at the left, Homemade Corn Pancakes, is one that may fit your breakfast-for-dinner menu, too.
3 Breakfast-for-Dinner Ideas to Try
Homemade Corn Pancakes, Greek yogurt, Cut-up melon or apples
Scrambled Egg Wrap on Whole Wheat Tortilla, Pan-fried Pork Tenderloin slices, Orange
Strawberry Smoothie, Oatmeal with Pecans or Walnuts, Turkey Sausage
Light Dinners are Easy Dinners
Whether you're new to cooking at home, or a seasoned veteran, taking it easy in your kitchen at dinner time is a sensible way to wind down. Eating more lightly in the evening has many benefits, such as improving your sleep and helping you not to overdo your daily calorie budget. Especially for those who sit down to dinner after 6:30 or 7 pm, a lighter meal is normally more comfortable for the body. So, pick up a jump-start resource at my EStore like a menu planning book or recipe book. And, remember to keep dinner simple & eat slowly for the most enjoyment.
What will be on your breakfast-for-dinner menu?