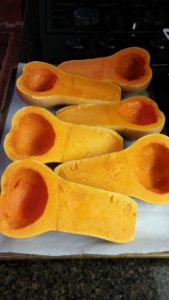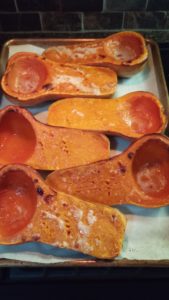 Butternut Squash is a Nutrition Hero
In case you're wondering, butternut and all fall-winter squash are 'up there' on the nutritious vegetables chart. Here is a quick peek at the nutrition facts for those of you who want to see the numbers. Really good news is that these super hard squash are not only healthy to eat, but they are also delicious and versatile in your kitchen.
Butternut Squash in 5 Tasty Ways
#1 Roasted Halves. My picture at the left shows how to go from cut to cooked. First – very carefully – I cut 3 squash in half and removed the seeds. Then I spritzed the cut surfaces with extra virgin olive oil , EVOO, and roasted them for about 45 minutes at 425 degrees. Simply scoop out the soft squash and eat it. Note: The bigger the squash, the longer the cooking time.
#2 Soup. After cooling and scooping out the roasted squash (see #1,) add some delicious ingredients to make a savory butternut squash soup, with full recipe here. I hope you will try it, especially in the fall for a meal to warm you up.
#3 Fall Lasagne. Once again, start by cooling and scooping out the roasted squash (see #1.) I got a little carried away with this creative recipe for Lasagne with a Fall Twist. Please, please try it anyway.
#4 Cut Up & Mixed with Roasted Vegetables. Start with raw butternut squash for this amazing way to sweeten up the flavor of a mix of roasted vegetables, with full recipe here. I even found a video that shows you how to peel the squash. 
#5 Easy Meat Roast Sub. One neat thing about butternut squash is that it's a great substitute for a white or sweet potato, especially when you're doing a lean roast. Next time, cut a butternut squash into chunks and add it to your pot with the roast, parsnips, turnips and other root vegetables. I think you'll be happily surprised.
Fall Squash are Waiting for You & Good Nutrition Resources
Don't miss out while fall-winter squash are at their peak. Buy one you know and one you don't know. Here's an earlier blog where I described tips on how to cook a variety of squash in your kitchen. To 'up' your nutrition every day, grab my free report about healthy meals or my 2016 Need Help Mom? book to make meal planning a whole lot easier.
Are you feeling the urge to stock up on butternut squash and how will you cook it first?