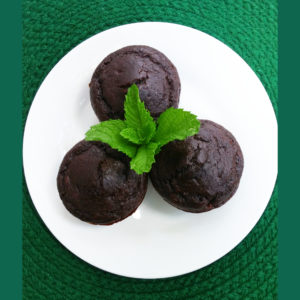 A Dessert that's Perfect for Everyone
When I first made and tasted this recipe, I thought it was chocolate-y, moist and not too sweet. For me it was a perfect dessert, but I needed other opinions to help me decide if it was a 'keeper' recipe – or not. So, I asked my grown-up son to try it. After going back for a second one, he commented that it was a perfect muffin for him. Great. Next, I shared a plate of cupcakes with my book co-author, Andrea, so that her family of 5 could do a tasting. All agreed that it was a great dessert. Yay. Then, my good friend, Tomomi, made a batch and asked her boys to taste. As I was hoping, there were thumbs up from her entire family. Done. So, here it is – a cupcake, or muffin, with a deep chocolate flavor combined with mild banana flavor, moistness, and subtle sweetness. With something this tasty and nutritious, I just skip the icing.
Chocolate and Banana Cupcake Recipe – from Busy Moms Book
Kids can help by measuring the ingredients, cracking the egg, mashing the banana, stirring the batter and filling the cupcake pans, with supervision.
Makes 12 regular or about 24 mini muffins
Ingredients:
½ cup Sugar
1/2 cup White flour
1/2 cup Whole wheat flour
½ cup Cocoa powder, unsweetened with single ingredient 'cocoa'
¾ teaspoon Baking powder
¾ teaspoon Baking soda
¼ teaspoon Salt (optional)
1 Egg, large
1 Banana, large, ripe, mashed
½ cup Water
¼ cup Milk, 1%
3 tablespoons Canola or light flavored olive oil
1 teaspoon Vanilla extract
How to:
1. Preheat oven to 350 degrees.
2. Line cupcake (muffin) pans with paper liners or spray lightly with vegetable oil spray – to prevent sticking to pan.
3. Mix together these dry ingredients in a large bowl: sugar, flours, cocoa powder, baking powder, baking soda and salt. Set aside.
4. Mix together these wet ingredients in a medium bowl: egg, mashed banana, water, milk, oil, vanilla extract.
5. Add the wet ingredients to the dry ingredients, then stir to combine. Stir just until mixed together.
6. Using a soup spoon or liquid measuring cup, fill cupcake pans about half to 2/3 full.
7. Go back and add a little to each cupcake if you need to use up the batter. Batter will expand in the oven as it cooks.
8. Place cupcake pans into the oven and bake for 20 minutes.
9. Test for doneness by inserting a toothpick into the center of the cupcake. If the toothpick comes out clean, then the cupcake is done. If not, place pan back into the oven for 2-3 minutes and test again.
A Dessert that You Feel Good About
This recipe ticks many boxes of good nutrition. It's chocolate-y from cocoa with it's healthful antioxidants to reduce inflammation in the body. It's sweet from a minimal amount of sugar and a nutrient-rich, ripe banana. It includes the nutrition of a fresh egg, some milk, and is made with some whole grain flour, too. When you make a dessert healthfully, everyone wins. This recipe and many others are waiting for you in the Busy Moms Book. For a modest investment in the book, you will gain a handy resource of tasty nutrition to last a lifetime.
How will a healthy dessert fit into your family's meal plan?