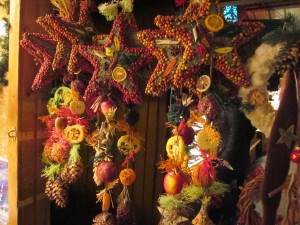 Holiday Food Decorations!
The expression, We Eat With our Eyes, must have been made for December. I always enjoy looking at beautiful, creative decorations and those made with food are my favorites. In the example on the left, there are dried citrus slices, nuts, berries and tiny seeds that, together, make a fun hanging decoration with wonderful aroma.
Holiday Spices!
An easy way to add bold flavor to your December foods is with spices. Cinnamon is something you can sprinkle onto a fresh or baked apple. Nutmeg is delicious sprinkled onto a pumpkin pancake or baked custard made with lower fat milk. Or try pumpkin pie spice as an 'everything sweet spice' because it combines cinnamon, nutmeg and a little bit of ground cloves. Very versatile.
A 3-Step Plan for Healthy Inspiration – in the Kitchen!
We can all benefit from kitchen inspiration because cooking simple and healthy meals at home is the path to feeling great and staying healthy – within your budget. As some dietitian friends say, Would you rather pay the grocer or the doctor? I'd rather pay the grocer!
Step 1: Make up your mind to cook and eat healthier.
Step 2: Reach out to a registered dietitian (RD). This is your nutrition expert with an individualized plan for you to succeed.
Step 3: Practice, practice, practice. Your new, healthy habits will take focus and hard work. As your new pattern settles in, you will begin to feel the results and live a healthier life – forever.
What inspires you to cook and eat healthier in December?