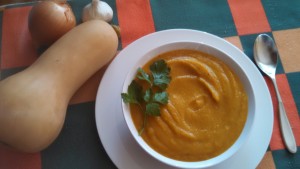 Soup is Healthy Comfort Food
In the winter, or anytime, homemade soup is hard to beat. For decades now, I've been a lover of soup and have spent many happy hours in my kitchen making soup. Of course, I've also spent many meals enjoying soup's amazing flavors. Comfort food is different for everyone and, for me, homemade soup is easily #1. Read my tips for getting organized in your kitchen to make homemade soup. You can do this!
Easy, Creamy Recipe for Butternut Squash Soup
Remember:  Ingredients and amounts in a recipe are what go onto your grocery shopping list!
Makes 4-6 bowls of soup
1 large Butternut squash, about 6 x 7 inches long and 3-4 inches wide
1 tablespoon Extra virgin olive oil, separated
2-3 cloves Garlic, crushed and minced
1 Onion, large, peeled and chopped
2 cups Vegetable broth
1/2 cup Water
To taste Salt & Pepper
1-2 teaspoons Nutmeg, ground (learn how to grate it yourself here)
Carefully cut butternut squash in half, top to bottom. Scoop out seeds (these can also be roasted, by the way.) Place squash on a sheet pan, cut surface up. Brush the cut surface with 1 teaspoon olive oil. Roast (bake) in oven at 425 degrees for 40 minutes or until soft when poked with a fork. Remove from oven and let cool.
While squash is roasting, add 2 teaspoons olive oil to a soup pot over medium-high heat. Toss in chopped onions and stir while they cook, soften and become golden colored, about 6-8 min. Add garlic to same pot and continue to stir-cook with onions, about 2 more minutes.
Add vegetable broth and water to onions-garlic in the soup pot and reduce heat to medium. Cover pan with a lid and allow to simmer (very slow boil) for 10 minutes. Turn off heat.
Scoop cooled butternut squash out of its skin and add it to the soup pot.
Very carefully, using either an immersion blender or regular blender jar, puree soup in batches and then return it to the soup pot.
Return soup pot to the stove and simmer again, for 10-15 minutes, stirring occasionally. If texture is too thick, then add 1/2 cup more water.
Season soup with salt, pepper and nutmeg. Taste and readjust seasoning.
Put Soup on Your Table
This Easy, Creamy Recipe for Butternut Squash Soup is a super starting point for a hearty meal at home. To balance out your soup meal, add a side salad with spinach/1% cottage cheese/tomatoes/cucumbers/vinaigrette dressing. Or add a quick and easy slice of pizza with lots of vegetables on top. Meal planning is step #1 for less stress, more nutrition, and a happier family dinner experience. So, get started today with my FREE 3 Tasty Menus for Busy Families and Everyone.
How does homemade soup rate on your comfort food favorites list?