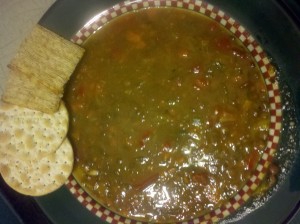 Lentil Soup Makes a Great Meal!
Every time I make lentil soup, I wish I had doubled the recipe. You know what I mean — it's the kind of food that tastes even better the second and third time it's reheated. The more, the better! A couple days ago, I made lentil soup in my crock pot since I needed to be out all day, working. That night, it was a convenient, comforting dinner along with corn tortilla chips & guacamole and some cantaloupe. Tonight, my lentil soup was dinner again. This time, we paired it with crackers & hummus along with a fresh fruit salad.
Lentil Soup Recipe Gets You Chopping!
Here is my recipe for the lentil soup pictured at the left. My 19-year-old son, who used to eat nothing from the vegetable group, loved it! So, I bet you will, too.
Easy Lentil Soup:
1. Cook Lentils: Measure out 1 & 1/2 cups dry lentils. Rinse them in a colander with cold water. Pick over and remove any tiny stones. Add lentils and cold water to pan with a lid. The water should be about 1 inch over top of lentils. Cook for 30 minutes at a slight boil. Drain lentils. To see the cooking steps, click here.
2. Wash and Chop, while Lentils are Cooking: 1 medium onion; 3 garlic cloves; 3 stalks celery; 2 medium carrots, peel before chopping; 2 sweet Bell peppers (I used red & yellow this time).
3. Saute in Large Skillet: Heat skillet to medium then add 2 Tbsp olive oil and all vegetables from step 2. Cook veggies, stirring, for 5-6 minutes until soft.
4. Combine Lentils with Veggies: Add veggies from step 3 to lentils from step 1.
5. Add Broth, Tomatoes & Parsley: Add 4 cups broth (I used veggie broth), 1 can diced tomatoes (or 4 fresh, chopped) & 1/4 to 1/2 cup chopped fresh parsley.
6. Season & Simmer Soup: Season soup to your taste with salt and/or pepper. Cook on the stove at a simmer with a lid for 1-2 hours OR Cook in a Crock Pot/Slow Cooker on low for 6-8 hours.
Get Out Your Soup Pot!
There is a whole world of tasty, healthy soups you can learn to make — really! The first step is to get out your soup pot and add the ingredients for a favorite, homemade soup to your grocery shopping list. For fun and inspiring  ideas about everything from soup-to-nuts, join me on Facebook. Don't wait…good nutrition belongs at the top of your priority list – now!