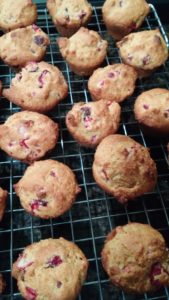 Make these gems at Thanksgiving, Christmas, New Year's, or whenever. They are a perfect balance of tart, sweet and comforting all wrapped up in a tasty muffin.
Cranberry and Corn Muffins with Orange Zest
Makes 12 regular size or 24 mini muffins
Ingredients:
3/4 cup White flour
1/2 cup Whole wheat flour
1 cup Corn meal
1/4 cup Sugar
2 teaspoons Baking powder
1/2 teaspoon Baking soda
pinch Salt – optional
2/3 cup Nonfat milk, mixed with 1/2 teaspoon Vinegar
1/3 cup Orange juice
1/4 cup Canola oil
1 Egg, large
1 Orange, grated zest only
1 1/4 cups Cranberries, fresh and roughly chopped
How to:
Preheat your oven to 400 degrees F.
Combine all dry ingredients in a large blow, including white flour, whole wheat flour, corn meal, sugar, baking powder, baking soda and salt – optional. Stir to mix up.
Combine all wet ingredients in a small bowl, including milk with vinegar, orange juice, oil, egg, and grated orange zest.
Add wet mixture (from step 3) to dry mixture (from step 2), then stir everything together just until they are mixed. Do not over-mix.
Stir cranberries into batter without over-mixing it.
Spray your muffin pan – either 12 regular size or 24 mini muffin – with vegetable oil spray to prevent muffins from sticking to pan. Spoon batter into the pans evenly.
Bake for about 20 minutes (regular size) or 15 minutes (mini muffins). Test doneness by inserting a small knife into the center of a muffin. If it comes out clean, muffins are done. If not, bake muffins for 2-4 minutes longer.
Yes, muffins can fit into a healthy meal plan or snack plan. The magic is in making sure you are using light and nutritious ingredients. These cranberry and corn muffins are a great example of how tasty it is to eat well even while treating yourself. My free report, 3 Tasty Menus for Busy People, will aim you in the direction of better nutrition each and every day!
What kind of healthy muffin will you make next?