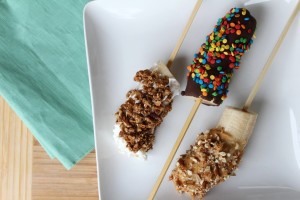 Frozen Banana Pops are the perfect solution to a kids' party, family party, baby shower, or any special occasion. They're fun, filling, nutritious and easy to make!
Frozen Banana Pops – in 3 Ways!
Makes 1 serving
What you will need:
Peanutty Banana
½ banana
2 tablespoons peanut butter
3 tablespoons chopped walnuts
Breakfast Banana
½ banana
3 tablespoons vanilla greek yogurt
3 tablespoons granola
Chocolate Confetti Banana
½ banana
¼ cup dark chocolate morsels
¼ teaspoon coconut oil
2 tablespoons rainbow sprinkles
Note: Skewers and Parchment paper are needed to make all 3 banana pops.
How to make:
1. Take ½ of a banana and place the skewer halfway into the banana.
2. Place the banana onto a small parchment paper-lined pan and freeze for 3 or more
hours.
3. For Breakfast Banana, spread greek yogurt onto frozen banana and sprinkle granola on
top.
4. For Chocolate Confetti Banana, pour chocolate chips onto a plate and put coconut oil on
top. Microwave for 30 seconds, stir, and then repeat until chocolate and coconut oil is
melted. Roll banana onto the melted chocolate and then sprinkle the rainbow sprinkles
onto the chocolate-covered banana. Allow chocolate to dry before freezing again.
5. For Peanutty Banana, spread peanut butter onto frozen banana and sprinkle walnuts on
top.
6. Freeze all banana pops for 3 more hours. When ready to serve, allow 10 minutes to thaw before
eating.
Making Healthy Food Fun!
A frozen banana pop on a stick is definitely fun food. If you are looking for nutrition, fun and tasty in the same bite then give these recipes a try. Join me on facebook every day for a variety of tips that make healthy food fun!