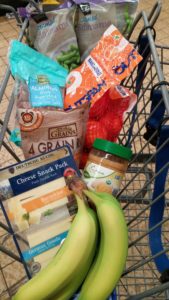 Are you ever surprised at your grocery tab at checkout? I've been surprised many times at how high my tab is because, well, good food is not cheap. But, this time, I was surprised that I got in-and-out of the store for less than $20! You can see my entire cart in the picture and I'll admit it wasn't a full week's worth of food. Still, I was feeling super proud of my smart shopping skills and staying on-budget as I headed home from this mid-week grocery run. If you're interested in some insights on a nutritious grocery cart fill-up, then take a look at my earlier blog here.
On-Budget Smart Nutrition Choices
Fresh Bananas – This #1 favorite fruit is also the #1 cheapest fresh fruit – did you know? Full of flavor and a perfect, grab-and-go snack, bananas are essential for a healthy kitchen.
Cheese Cubes – This is an unprocessed, nifty snack that's loaded with dairy nutrition. Protein, calcium, vitamin D, and much more — cheese cubes are good to keep on hand in the fridge, always.
Peanut Butter – This is the kind of peanut butter that separates with oil at the top of the jar. It's quick and easy to stir up and use for breakfast, lunch, or dinner protein. It's packed with heart-healthy fat, too, so why not keep an extra jar in the pantry?
Whole Grain Blend Rice – This whole grain choice is fun to make for a change since it's a combo of basmati, wild, brown and red rice. Fun. Think about using the blend along with your next dinner or make it into 'fried rice' with easy add-ins like chopped green onions, grated carrots, scrambled egg and a splash of soy sauce.
Clementines – This easy-to-peel, super sweet, seedless citrus fruit is the best. It comes from Chile and South Africa during summer in the US and from California, Texas and Spain during winter in the US. The vitamin C is a bonus and the fiber, too. Make it dessert whenever you can.
Almonds – This crunchy, filling nut is a superhero of nutrition. You can eat it as is, mix it into breakfast cereal or yogurt, or grind it up into flour for a healthier, homemade cookie ingredient.
Frozen Edamame – This tasty plant protein goes with everything because it has a pleasing, mild flavor. Add it to a salad, pot of rice or bowl of chile con carne. Boost your snack attack by eating edamame, too. Yum.
On-Budget and Smart Nutrition is the Best
Buying mostly simple foods at the grocery store is a smart strategy. If you do this, you'll stay on-budget and come away with rich nutrition oozing from your cart. Not only that, simple foods are versatile ingredients for all kinds of easy recipes and meal plans for active singles and families. Take the path of good nutrition and you'll be so glad you did. Your wallet will thank you and you'll feel better day-after-day-after-day. To get started, grab a copy of my Easy Meals for Busy Families & Everyone report – it's free!
What groceries do you think are full of great nutrition, at a great price?