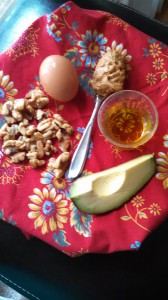 Healthy Fats are Smart Choices – Why?
We all need fat to survive – did you realize that? In fact, a healthy body depends on it. But, what about 'bad fats' and 'trans fats' and 'too much fat'? Right! It's important to eat a moderate amount of fat every day – about 25-30% of your total daily calories – and just as important to choose a healthy kind of fat. Because your heart and entire body will stay healthier with the smart fat choices.
Healthy Fats are Smart Choices – Examples!
Understanding that some fats are healthier is a good start to making these part of your meals and snacks. Five great choices are shown at the left: walnuts, eggs enhanced with omega-3 fat, peanut butter, extra virgin olive oil and avocado. Here are 5 more great choices: ground flaxseeds, salmon, pumpkin seeds, mackerel and almond butter.
Healthy Fats are Smart Choices – 7 Ways to Succeed!
Eating healthy fats will make more sense if you think of it as part of your kitchen plan. So here are 7 ideas to get you started:
1. Drizzle a teaspoon of olive oil onto your steamed broccoli just before serving it.
2. Chop up some walnuts and add them to your bowl of oatmeal just before eating it.
3. Cut an avocado and add 1/4 of it to your lunch or dinner salad.
4. Cook an egg – the kind with omega-3 healthy fat – as part of breakfast.
5. Mix pumpkin seeds into a homemade trail-mix with walnuts and hot air popcorn.
6. Buy a frozen mackerel filet at an Asian grocery store and then cook it in a skillet for dinner.
7. Use peanut butter or almond butter as a dip for baby carrots.
Healthy Fats are Smart Choices – Get On Board Now!
Taking action to improve your nutrition includes replacing unhealthy fats with healthier ones. Now is the time to go through your kitchen and do a 'fat makeover.' Take out crackers or margarine with trans fat and replace them with 0-trans-fat alternatives. Make the change from 2% milk – with unhealthy levels of saturated fat – to fat free milk. Buy a peanut butter or almond butter made from 100% nuts. My facebook page is a reliable resource with easy, daily tips and my free menus for busy weeknights can steer you to a healthier plan for dinner. Please use them!
How do you add healthy fats to your meals and snacks?