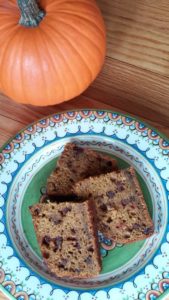 Canned Pumpkin All Year Long!
Thinking about and enjoying foods made with pumpkin is getting more and more trendy throughout the fall season. I'm amazed, though, that the pumpkin-craze seems to fizzle out in winter, spring and summer. With canned, solid pack pumpkin, which by the way is just pumpkin, I'm determined to enjoy it all year long. Here is some nutrition information about pumpkin, conveniently from the can. And, while we're on the topic of good nutrition, here's 8 ways that pumpkin can benefit your overall health.
Pumpkin Bread, makes 1 loaf
2 eggs
3/4 cup sugar
1/4 cup canola oil
1/4 cup unsweetened applesauce
1 cup canned, solid pack pumpkin
1/3 cup water
1 cup white flour
3/4 cup whole wheat flour
1 teaspoon baking soda
1/2 teaspoon salt, optional
1/2 teaspoon ground cinnamon
1/2 teaspoon ground nutmeg
1 cup raisins or 1/2 cup mini chocolate chips or 1/2 cup chopped walnuts
Preheat oven to 350 degrees.
In a large bowl, combine eggs, sugar, oil, unsweetened applesauce, canned pumpkin, and water. Stir or beat with a blender until well mixed. Set aside.
In a medium bowl, combine white flour, whole wheat flour, baking soda, salt (optional), cinnamon, and nutmeg. Stir until well mixed.
Combine wet and dry ingredients from steps 1 and 2. Stir to mix well.
Add raisins, mini chips, and/or walnuts to batter. Stir to mix well.
Get out a loaf pan and spray lightly with cooking oil spray.
Transfer batter from bowl into loaf pan, gently smoothing the top.
Bake 50-55 minutes, setting a timer. When timer goes off, check for doneness by inserting a knife into the middle of pumpkin bread. If knife comes out clean then it is done. If not, bake 5 minutes longer and check again.
Step Up to Good Nutrition!
This pumpkin bread recipe is an example of how to bake a tasty, homemade favorite with less sugar and more nutrition. From now on, every time you make a muffin or quick bread, step up to good nutrition by using less sugar than what's called for in the original recipe. Try reducing the sugar by 1/2 and chances are you'll never even miss it flavor-wise. Your body will benefit, though, health-wise. Step up to good nutrition, again, by requesting my free report that will get you going on quick and nutritious meals for a busy day! Or, join my facebook group for a daily nutrition tip to move you along.
What's your favorite canned pumpkin recipe?