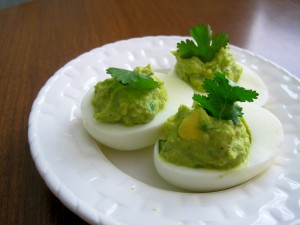 This is a guest blog by Kaylie Chrismon.
Healthy Recipes for Leftover Easter Eggs!

Dying eggs for Easter is a fun family tradition, but who wants to waste those eggs? Not us! Hard-boiled eggs are highly nutritious for you. Just one has less cholesterol than the daily recommendation, and one egg holds 6 grams of protein, as well as vitamin B12, vitamin D, and iron. One egg has only 70 calories, making this a healthy snack to keep you feeling energized throughout the day, too. Try these ideas for using up Easter eggs!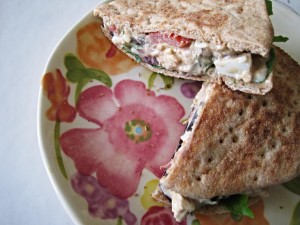 Anytime Recipe: Spring Green Deviled Eggs
Deviled eggs are a fun way to add more flavor to bite sized eggs. Serve as appetizers or with a salad.
6 hard-boiled eggs
1 avocado, diced
3 tbsp plain Greek yogurt
2 tsp lemon juice
1/8 tsp garlic powder
1/8 tsp cayenne pepper
Fresh cilantro, finely chopped
Cut the eggs in half and remove the egg yolks. In a bowl, combine the yolks, avocado, yogurt, and lemon juice. Mash to combine.
Using a spoon or a piping bag, fill the holes in the eggs with the avocado-egg yolk mixture.
Garnish with fresh cilantro
Please note: This recipe is adapted slightly from Eating Well Living Thin
Breakfast Recipe: Power Toast
Breakfast is a great way to start off the day in a nutritious way. Be sure to eat something that will keep you full and focused throughout the morning. Try smashing half of an avocado on whole wheat toast and topping it with sliced hard-boiled eggs and a tiny sprinkling of sea salt. Pair this with half of a grapefruit or a bowl of fruit.
Lunch or Dinner Recipe: Protein-Packed Chicken Salad Sandwich
Chicken salad is a delicious treat, especially with the warm weather. Pack a picnic with chicken salad sandwiches on whole wheat bread and a fruit salad. Just be sure to pack a cooler and eat before playing Frisbee and tag to avoid the chicken spoiling.
For chicken salad sandwiches, spread chicken salad (homemade or store-bought) onto whole wheat bread. Slice a hard-boiled egg onto the chicken salad, and top with spinach or mixed greens to make a healthy spring sandwich!
Lunch or Dinner Recipe: Greek-Style Egg Salad
Eggs are extremely versatile, and egg salad is a delicious way to keep you full throughout the day. Try making a Greek-style egg salad by adding diced kalamata olives, artichokes, tomatoes, and feta! For the dressing, combine a little plain Greek yogurt, olive oil, balsamic vinegar, fresh chopped parsley, and dill. Pour over egg salad and stir to combine. Eat this on crackers, over a bed of leafy greens, or between two slices of whole wheat bread.
Lunch or Dinner Recipe: Healthy Cobb Salad
Cobb salads can get weighed down with calorie-dense ingredients like blue cheese, ranch, and bacon. Try a lightened-up version with shredded mixed greens, diced tomatoes, diced cucumbers, half of an avocado, a diced egg, diced bell peppers, and diced carrots. Mix together plain Greek yogurt with a little olive oil, garlic powder, black pepper, and fresh chives and parsley.
Healthy Recipes Help You Meet Your Health & Nutrition Goals!
Everyone needs new ideas for healthy recipes once in a while. Or, maybe they'll come in handy as you move into a new season, or as you re-do your kitchen with healthier choices. Take a look at the handy e-Store at Market Basket Nutrition for our Tasty Booklet Series. There are new recipe ideas there — all made with simple, healthy ingredients!
What will you make with your leftover Easter Eggs?
About this week's Guest Blogger. Kaylie Chrismon is a Nutrition Grad Student at UNC-Greensboro with the goal of becoming a registered dietitian. She loves to cook and Kaylie writes her own blog here.