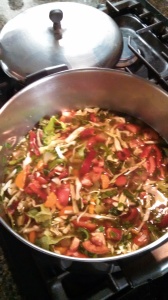 Soup Comforts as it Nourishes!
If there is a perfect comfort food then it must be soup. I've been a soup lover for most of my life and one of my favorites is homemade vegetable soup. The great thing about homemade vegetable soup is that you can make it so many different ways. You can add lean stew beef or not. You can add leftover cooked chicken or not. You can add fresh veggies or frozen veggies. Basically, anything goes.
Here are 2 more delicious soups you can make, in your kitchen. I fell in love with Slovenian Sauerkraut & Potato Soup when I once traveled to Slovenia. And, I also adore Lentil Soup which I make about once a week from October – March. Both of these will comfort and nourish you in the nicest way.
Homemade Vegetable Soup!

Tip: Use the recipe ingredients as your grocery shopping list!
2 tablespoons Olive oil
2-4 cloves Garlic, peeled & minced
1 large (or 2 small) Onions, peeled & chopped
2 large ribs/stalks Celery, chopped
3 large (or 4 small, not baby carrots) Carrots, peeled & sliced
1-1/2 quarts Vegetable broth
2 medium Bell peppers, chopped
4 medium Roma tomatoes, chopped
2-3 inch wedge Green cabbage, chopped (or try red cabbage instead)
3/4 cup Lima beans, frozen
1/2 cup (or one large handful) Fresh parsley, chopped
1 tablespoon Pesto (or, as a substitute, 4-6 chopped fresh basil leaves)
Making the Soup
1. In a large pot, with a lid, heat olive oil to medium.
2. Add prepared garlic, onions, celery, carrots. Saute while stirring about 5 minutes. This gets the flavors going.
3. Add all other ingredients to the pot.
4. Cover the pot with a lid and reduce heat to low.
5. Cook for 1 – 1-1/2 hours.
6. Serve right away. Or, allow soup to cool, refrigerate (up to 3 days) or freeze (up to 3 months) for later.
 More Homemade Vegetable Soup Ideas!
If you want to make a Vegetable-Beef Soup, then buy lean stew beef (sirloin) at the grocery store as an extra ingredient. Brown it in step #2 above. If you want to make a Vegetable-Chicken/Turkey Soup, then use up leftover cooked chicken or turkey by cutting it into bite-size pieces and adding it 10 minutes before the soup is finished cooking. This is a versatile soup in terms of veggies, too. Chop up what you like, add some fresh herbs, and keep it full of colors for the best nutrition. For other handy tips, please join me on Facebook  and get my free report, 3 Easy Menus for Busy Weeknights. Market Basket Nutrition offers you daily guidance to help move you closer and closer to your healthy lifestyle goals!