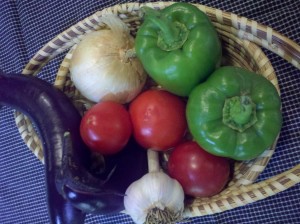 Cooking with Eggplant
I've always thought eggplant has a kind of mystique surrounding it. Is it the deep purple color? Is it the name? Or, is it that many people are confused with how to cook eggplant? If you're confused, then it's time to get to the grocery store or local farm market, buy an eggplant and give it a try!
To Peel or Not to Peel
It's not hard to prepare and cook eggplant. First, rinse eggplant well with cool water. The next step is to peel or not to peel it and either way works. Next, cut eggplant into chunks or rounds and cook it. Some chefs give eggplant a striped look by peeling it part-way. Here's a fun video showing the stripes and a simple grilled eggplant recipe.
Easy Stewed Eggplant Recipe (ingredients in photo)
1. Wash and cut into chunks: 2 Japanese eggplants, 6-8 inches long (or 1 large globe-shaped eggplant); 2 green Bell peppers; 2 large or 3 medium tomatoes; 1 medium onion. Set aside.
2. In a stewing pot, add 1/2 tablespoon olive oil and heat to medium. Add 2-4 cloves garlic, minced. Cook 2-3 minutes.
3. Add prepared veggies from step #1 to pot and cover with lid. Cook 10-15 minutes, stirring a couple of times.
4. Add 1/2 cup tomato sauce or tomato puree to pot ingredients. Stir.
5. Cover pot with lid, reduce heat to low and cook stew for about 1 hour, stirring every 15 minutes.
6. Serve over cooked pasta and sprinkle with grated Parmesan cheese, salt and pepper.
Note: For more flavor, add chopped fresh herbs like basil, parsley, oregano, mint and/or thyme half way through.
Create a Healthy Kitchen, Starting Today!
Everyone needs tiny tips, recipes and inspiration to create an ongoing, healthy kitchen. LIKE me on Facebook, follow me on Twitter and check out my menu & recipes e-book bundle to help you get going!
What light & healthy eggplant recipe will you try this summer?