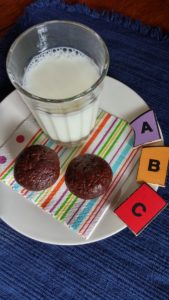 Kids and Desserts – Memories
I still remember being a kid and asking for a sweet dessert after dinner – every night. But, that was not what happened in my family. Mom treated us once a week with a sweet dessert, usually a small scoop of vanilla ice cream in a small 7-Up Float. Yep, it was super sweet, but small, and I'm grateful now for my mom's wisdom and follow-through with managing desserts for her kids.
Kids and Desserts – The Downside
Giving kids a lot of sugary desserts has definite downsides – for example:
too many dental visits with big bills
too scrawny appetites for high quality foods, like fruits, vegetables and whole grains
too heavy body weights with additional health and self-confidence issues
There are special occasions that call out 'dessert' though. What would a birthday be without a piece of cake or a cupcake? Who doesn't enjoy a piece of fruit pie once in a while? So, what's a parent to do?
Kids and Desserts – A Healthy Solution
Most kids are open minded enough to try a chocolate cupcake made at home – no matter who makes it and what the ingredients are. Makes sense, right? The open minded child is every parent's dream for improving the nutrition of dessert. The chocolate-y banana mini-cupcake in the picture above is something that kids like — a lot. They consider it dessert, and it is, and then they move on. The beauty is that its ingredients are great foods, like unsweetened cocoa, whole wheat flour, extra virgin olive oil, fresh egg, and a ripe banana. It's at the perfect crossroads of quality ingredients, slightly sweet, and fun!
Kids and Desserts – Healthier Options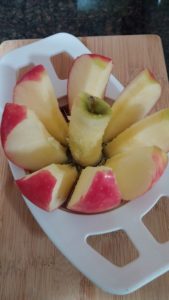 Giving kids more nutritious dessert options has definite advantages – so, here are some easy recipes to try:
Kids and Desserts – Take the Leap 
Getting kids involved in the kitchen with age-appropriate tasks is like giving them a loving shove into life-learning. Yep, they learn handy skills when they stir up a fruit salad, sprinkle cinnamon on top of the apple crisp, or spoon batter into a mini-muffin/cupcake pan for the chocolate-y banana cupcake shown above. Getting kids involved in making a healthier dessert for their school lunch box or a family picnic is the best kind of learning fun. For easy-to-make, kid-pleasing recipes, check out my Busy Moms Good Nutrition at Home book. And, be sure to download the 3 Easy Mediterranean Menus for Busy Families, too.
What kind of healthier dessert will you suggest to your kid(s) at back-to-school time?