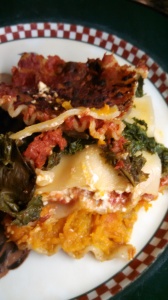 Lasagne with Layers of Goodness!
From what I can tell, pasta is a favorite 'go to' food for everyone's quick meals. After all, it falls into the comfort food category and it can be simple or more exotic. What goes in between the layers of lasagne can become a fun and creative project, I recently found out.  And what I came up with was Lasagne with a Fall Twist.
For more quick 'go to' meals, click here and also click here.
Lasagne with a Fall Twist – How To!
Here's how I made this tasty and unique lasagne:
1. Use a Homemade Marinara Sauce that is simple and full of flavor.
2. Fill one layer with roasted, mashed up butternut squash. I seasoned mine with a little olive oil, salt and pepper to roast it. Easy peasy.
3. Fill one layer with chopped and steamed kale. I didn't add anything to mine when I steamed it. Nothing but fresh kale.
4. Fill one layer with reduced fat ricotta cheese and crumbled feta.
5. Cook it nice and slow, at 350 degrees for about one hour for a 9 x 9 inch pan. I watch the top and cover it with a sheet of aluminum foil if it starts getting too browned, about half way done. And, I do not pre-cook the lasagne noodles.
Lasagne & Creative Deliciousness!
Being creative in the kitchen can bring great results and lasagne is one example. Sometimes I add canned and flaked tuna to my lasagne instead of layered veggies or extra lean ground meat. Sometimes I add spinach and lots of mushrooms. The layers are fill-able with any combination you can think up, so please give it a try. For a starter menu planning booklet or recipe collection, check out my Tasty Series. Each e-book has 15 ideas for you to get creative with!