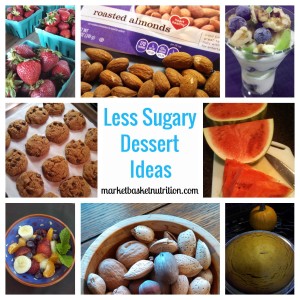 Do You Like Dessert?
There are very few people I know who don't like dessert. And, quite often, sweet desserts are a huge issue for my clients. So, what's the solution? We work together and discuss how to cut back on sugar, one strategy being less sugary dessert ideas. It's not just my clients, though. On a personal note, my son adores sweets and so I've been on the watch for less sugary dessert ideas for years!
Here is my list of less sugary dessert ideas. If you doubt that what's on my list will satisfy your sweet tooth then at least try it before you ditch it. I'm pretty sure you'll take away a couple of new ideas to eat less sugar as well as to eat better nutrition.
Have Dessert – with these Less Sugary Dessert Ideas!
Nuts are an especially satisfying dessert. Try all kinds of nuts for great flavor, fiber and fun.
Fresh fruits are sweet and juicy as dessert. Try seasonal fruits as fresh, or canned or frozen & thawed.
Pumpkin pie is the least sugary pie dessert. My pumpkin pie recipe is deliciously crust-less and made in the blender, so it's low in calories and easy, easy, easy.
Yogurt-Fruit parfaits are a special dessert treat. Get out a clear, fancy glass and be creative with my easy recipe.
Cookies made from scratch recipes can be less sugary. Find a recipe and then adjust it. For example, cut the sugar amount in half and the result will be fine.
Plan Healthier Meals with Sensible Dessert!
Feeling satisfied with a less sugary dessert is 90% practice. Give the above ideas a try and get some help with my eBooks that feature menus and recipes to help you plan and practice. You'll feel better and feel better about your choices once practice becomes a new and improved habit!
Which less sugary dessert will you choose first?