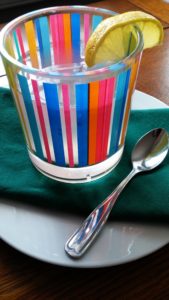 Less Sugary Homemade Lemonade
Kids can help by squeezing the lemons, measuring the ingredients and stirring, with supervision.
Makes 3-4 servings
2 large, juicy Lemons, or 3 small lemons
2 cups Water
2 tablespoons Sugar
Get out a small pitcher.
Cut lemons in half, squeeze juice into pitcher and discard seeds.
Add water and sugar.
Stir well to dissolve all sugar.
Taste and add ½ tablespoon sugar if needed.
Kids Thrive on Good Nutrition
Making less sugary homemade lemonade is a simple 'cooking' project for kids. It helps them enjoy being in the kitchen and enjoy drinking their very own recipe. Give your kids some kitchen experiences to teach them little-by-little how to enjoy food, 'cook' food and eat nutritiously. This recipe comes from my book, Need Help Mom? Busy Moms Making Food Fun for Healthy Eaters, now available as an ebook or paperback. It's a resource you'll want to buy and keep in your kitchen!
What's your favorite childhood memory of making and drinking homemade lemonade?