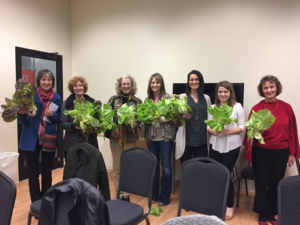 Local Dietitians' Night Out!
Every 4-6 weeks, our local dietitians group gets out together for education, networking and fun! This month, we met at a YMCA to listen to a panel of local farmers and gardening experts talk about the local agriculture scene.  Not only that — we took home the most beautiful, locally grown, hydroponic lettuce I've ever seen!
Local Agriculture in Triad North Carolina
Our education/experience panel the other night consisted of 2 farmers who supply local, community feeding programs and the food bank with a variety of fresh vegetables. In the winter, thanks to 'hoop houses' which are super simple greenhouses, the farmers specialize in growing hydroponic lettuces. In the spring and summer seasons, these same farmers produce a bigger variety of vegetables to our local in-need community members. Bravo!
The other 2 members of our education/experience panel consisted of NC State University Cooperative Extension colleagues who are in place to educate and assist all of us who wish to grow an edible, home garden. Also, they do some creative projects to assist our in-need community members cultivate neighborhood, edible gardens and  they provide classes for all of us.
Local Farmer's Markets
In my home state of North Carolina, we're very fortunate to have a rich, farming history and an active, modern farming initiative. There are seasonal farmer's markets with colorful produce, flowers and plants, honey, eggs, dairy and goat cheese, and some grass-fed and pastured beef, pork and lamb. Friend groups, singles and families with kids can enjoy an outing, talk about healthy foods, and help support their local farmers all at once – at the market!
Where is your local farmer's market and when are you planning to go?