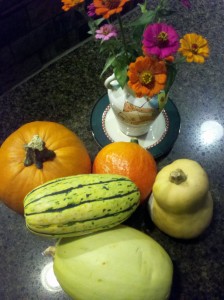 Looking for Healthy Fall Food?
Squash that grow throughout the summer and are then harvested in the fall are unique and different from squash that we eat during the summer. Fall squash are hard as a rock on the outside and the cooking process softens them up. Many of them are a powerhouse of vitamin A and all fall squash are full of healthy fiber. Even though I see many fall squash used as decorations – because they are colorful and have fun shapes — I say "Don't just look at them…Eat 'em!"
How to Cook Healthy Fall Squash!
It's not hard to cook fall squash and there are many recipes to try. If you are not fond of cutting the raw squash – because it is very hard and a little scary to do — then, you can try this. Firmly poke the squash several times with a fork to pierce the outer skin. Next, microwave it until it's nice and soft. When you can poke it with a fork and it feels soft then the fall squash is done. Once soft, it is easy to cut in half lengthwise, scoop out the seeds, season with a little salt and pepper or a drizzle of olive oil and enjoy this super tasty vegetable.
It's Game Time: Name the Healthy Fall Squash!
Do you know the names of the squash in my photo on the left? Here are the answers from left to right: pumpkin (you knew that!); gold nugget (round and reddish-orange); butternut (super good roasted); delicata (the one with stripes); spaghetti squash (you've got to try it to believe it!)
Putting Healthy Fall Squash on Your Menu!
It's the perfect time of year to put healthy fall squash on your menu. If you have kids then ask them to pick out a squash and cook it for them. Kids who make grocery store  or farmer's market decisions are more likely to try new foods and grow up as less picky eaters. As a starting point for healthy menu planning for yourself and your family, consider my easy-to-understand e-books. Everyday good health begins with everyday good nutrition!
Which healthy fall squash will you try?