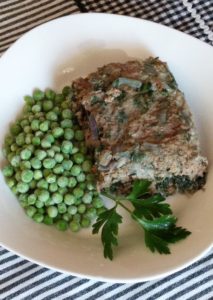 Meatloaf is Comfort Food
I have been eating meatloaf all my life and I bet you have, too. Lately I've gotten creative and have tried some new ingredients in my meatloaf as a way to lighten up this classic comfort food. Fresh and dried herbs and spices are normally fun to add to meatloaf, and using oatmeal instead of bread crumbs is a neat way to add a whole grain to the recipe. The meatloaf in this picture at the left has an entire 10 oz package of thawed and drained, frozen spinach in it, too. Tasty? You bet it is!
Easy Spinach & Herb Meatloaf Recipe
1 pound lean ground beef
1 medium onion, chopped
1/2 cup oatmeal
1 large egg
10 ounces package frozen spinach, drained and thawed
1 teaspoon garlic powder
1 teaspoon dried oregano leaves
1 teaspoon dried basil leaves
1/2 teaspoon salt
1/8 teaspoon pepper
Mix together all ingredients.
Form into a loaf shape, in a loaf pan or on a sheet pan.
Bake in a 325-350 degree oven for 40-45 minutes, until internal temperature is 165 degrees when tested with a meat thermometer.
Store cooled & wrapped leftovers in the fridge up to 3 days or freeze with a label & date up to 3 months.
Making Easy Homemade Recipes
Meatloaf is an easy homemade recipe to try in your kitchen. When you decide to make it, put the ingredients you'll need to buy on your grocery list along with other foods you need. Clear the clutter from your kitchen counter, get out a big mixing bowl and measuring spoons and cup. Get out the meatloaf ingredients, measure them into the bowl, mix up, and place in your pan. While the meatloaf cooks, get your meal side items prep'ed and cooked. Then, enjoy a nice, healthy comfort dinner. To learn more about nutrition and home cooking, join me on facebook and invest in a handy eBook  recipe book at my website.
What do you like to serve as side items with a meatloaf dinner?