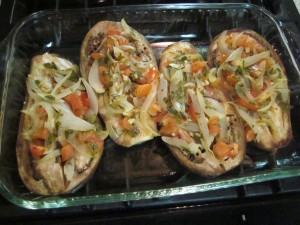 Mediterranean Cooking is Full of Flavor & More!
There's no doubt in my mind that Mediterranean style recipes are some of the best in the world. Best because they are not hard to make. Best because they are full of delicious flavors. Best because they are combinations of plant-based ingredients that support good nutrition and good health.
Eggplant is a Vegetable of the Mediterranean Cuisine!
There are many vegetables that are used when cooking Mediterranean style. Eggplant, for example, is a mild-tasting vegetable that can be made into a stew, a side dish or a main dish. Sometimes eggplant is combined with basil or parsley and sometimes it is mixed with zucchini, tomatoes and olive oil. All by itself, eggplant is low in calories and carbohydrates and it is fat and cholesterol free. One cup of cooked eggplant is only 35 calories with 2 grams of fiber and 8 grams carbohydrates. By adding garlic, onions, tomatoes, fresh herbs and olive oil, eggplant is transformed into a most delicious lunch or dinner recipe without difficulty.
Turkish Stuffed Eggplant Recipe!
I love all eggplant recipes. One of the best I've ever made though is this Turkish Stuffed Eggplant Recipe (see photo.) After preparing and baking it, I let it cool to room temperature and then add Greek style, nonfat plain yogurt to the top.
If you haven't tried making a new recipe yet this year, then I hope this blog inspires you to do it. Please join me on Facebook for tips on easy-to-fix recipes and handy strategies for a healthier outlook – from your own kitchen!
What new recipe will you try this week?