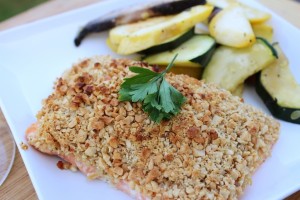 Salmon for Dinner is a Favorite!
I know lots of people who adore salmon for dinner. I do, too. It's easy to cook at home, it's full of wonderful flavor, and you can find it quickly at your grocery store or seafood market. Cooking salmon really is easy, especially when you grill, broil, bake or saute it with a little butter or extra virgin olive oil, fresh lemon juice, salt and black pepper. Delicious. Just for fun, why not get a little snazzy next time with your salmon? This Parmesan & Pistachio Crusted Salmon Recipe is for you!
Parmesan & Cashew Crusted Salmon – 2 servings
2 Salmon filets, 4-6 ounces each
2 Garlic cloves, minced
1 tablespoon Coconut oil
1 tablespoon Extra virgin olive oil
1/2 teaspoon Dried basil
Pinch of salt and black pepper
1/8 teaspoon Cayenne pepper
3/4 cup Grated Parmesan cheese
1 cup Cashew nuts, unsalted
Optional Garnishes: Fresh basil or parsley leaves
Preheat the oven to 450 degrees Fahrenheit.
In a food processor, combine the garlic, coconut oil, olive oil, dried basil, salt, black pepper, cayenne pepper, Parmesan cheese, and cashew nuts. Pulse until minced. You may need to stir the mixture a couple times between pulses to make sure all ingredients are blended.
Line a baking pan with aluminum foil and lightly spray the foil with cooking oil spray.
Place the salmon skin-side down onto the foil and press the mixture from step #2 onto the top of the salmon filets, dividing evenly. Cover the salmon loosely with another sheet of aluminum foil.
Bake for 8 minutes, remove the foil, and bake for another 5-6 minutes. The salmon is ready when it pulls away easily from its skin when served from the pan.
Salmon Opens the Door to More Fish for Dinner!
The new 2015 US Dietary Guidelines for Americans along with the American Heart Association recommends we put fish on the dinner table twice a week. Salmon makes a perfect choice for the first dinner. Sardines, tuna, flounder, tilapia or another will make your taste buds dance for the second dinner. Getting a handle on planning dinner starts with my FREE report that's called, 3 Tasty Menus for Busy Families and Everyone. Or, take advantage of other resources on my website to improve what you eat and how you feel!