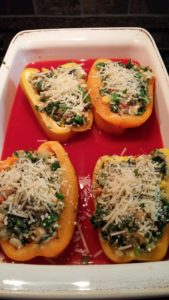 One of the most common questions my clients ask me is how to get more variety in their meals. It's so easy to slip into a rut and then cook and eat the same things over and over again – right? For better nutrition, I always nudge clients, and myself, to plan a wide variety of foods into their weekly plan and here's how:
How to Plan Meals with Variety and Flavor – List Making Phase
With 7 days in one week, there's a neat level of variety that's not too hard to achieve. Try these tips to get your list together:
Make a Weekly Favorites List which includes 3 dinner favorites. These can be chicken, beef, pork, tofu, vegetarian, anything.
Add 2 fish/shellfish dinners to your list if you're missing this heart-smart choice.
Add 1 vegetarian dinner to your list if you're missing this plant based choice.
Add 1 super fast dinner that you want to use on your busiest day.
Add 3 vegetables to your list that you like and 1 new vegetable you want to try.
How to Plan Meals with Variety and Flavor – Planning Phase
Get out a piece of paper or print out a blank, weekly calendar that you find online. Then, label it with Sunday through Saturday and add the exact dates if you want to.
Pull from your lists above which now include dinner favorites, seafood, vegetarian, and super fast options.
Write your 3 dinner favorites into the calendar. Try my Tangy Lime Chicken recipe.
Write 2 seafood dinners into the calendar. Try my Parmesan & Cashew Crusted Salmon recipe.
Write 1 vegetarian dinner into the calendar. Try my Eggplant Recipe called Yakne.
Write 1 super-fast dinner into the calendar. Try one of my Breakfast-for-Dinner recipes.
Go back through the calendar and add at least 1 vegetable – from your list – into each dinner.
How to Plan Meals with Variety and Flavor – Shopping/Cooking/Eating Phase
With a nice variety planned for your week, it's important to plan a careful, detailed grocery list, too. Spend a bit of time de-cluttering your kitchen work space and organizing yourself day-by-day for a great cooking experience. Eating what you cook is the final step and tasting the variety of flavors will be the 'cherry on top!' For more nutritious meal ideas, grab my free report here.
What meals give you wonderful variety and flavor?