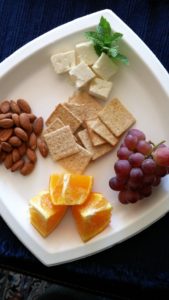 Quick Snacks are Easy
Just about everyone I know likes a quick snack sometime during the day or evening. We like quick and we like easy in our busy lives. Grab and go can be nutritious and delicious, in case you are wondering, and here's how…
Start with a Fruit or Vegetable
When you grab a fruit or vegetable as part or all of your quick snack, amazing things happen. You enjoy the crunch, you adore the sweet flavor, and you guarantee your body is receiving good nutrition. Fruits and vegetables are super-heroes for all their vitamins, minerals, fiber, antioxidants, and high quality carbs. Here are 10 Top Reasons to Eat Fruits and Vegetables. 
Add a Whole Grain, Nuts, or Cheese
After deciding on a fruit or vegetable, it's easy to 'up' the flavor, enjoyment, and good nutrition of your quick snack even more. To do this, grab another simple food such as whole grain crackers or nuts or natural cheese cubes. You'll be so happy when you do because keep-it-simple foods are some of the most energizing on the planet.
Be a Little Creative
When you mix-and-match simple foods into quick snacks, you are being a little creative. Busy Moms will feel so good when your kids begin eating nutritious and quick snacks, along with the entire family. For Busy Moms and all busy people, here's my handy and affordable book with 25 quick snack ideas – and much more. For daily tips on improved nutrition for you and your family, join me on facebook. You'll be so glad you did!
What are your favorite quick snacks?