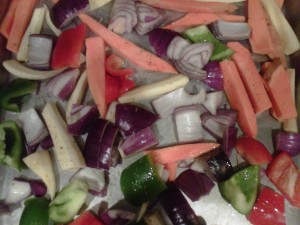 Choose Any Veggies!
The first time I ate roasted veggies, it was a mix of  sweet Bell peppers, onions and mushrooms. So, I repeated this combination with delicious results. Next, I branched out and started experimenting with other flavors, textures and colors. Now, I basically cut into chunks whatever I have on hand when the mood strikes for a tasty meal or side item of roasted veggies. You can do the same.
Roasted Rainbow Veggies Recipe!
This recipe offers sweet flavors of healthy vegetables. Kids can help by washing the veggies, stirring them up with oil and seasonings and scattering them on the pan, with supervision.
Makes 6 servings
2 medium           Sweet potatoes, washed, skin left on
1 medium           Onion, any kind
2 medium           Yellow squash or zucchini squash, or one of each
2 tablespoons   Olive oil
Pinch                     Salt
Pinch                     Pepper
Wash all vegetables. Peel off outer skin of onion.
Preheat conventional oven to 425 degrees.
With a cutting board and knife, cut up vegetables into bite-size chunks. The onion may be cut in half and then sliced.
Place cut vegetables into a large bowl, add oil, salt and pepper. Stir so that everything becomes coated.
Scatter vegetables in a large baking pan or cookie sheet with sides, about 17 x 11 inches. Spread out in one layer.
Cook for 15 minutes. Using a spatula, turn over vegetables.
Cook another 10-15 minutes, until tender when poked with a fork. Do not overcook or veggies may become mushy.
Nutrition per serving: 90 calories; 4.5 gm fat; 0.5 gm saturated fat; 0 trans fat; 0 mg cholesterol; 40 mg sodium; 12 gm carbohydrates; 2 gm fiber; 2 gm protein; 150% DV vitamin A; 35% DV vitamin C; 22% DV calcium; 4% DV iron
Money Saving Tip: Use other vegetables, such as broccoli, asparagus and butternut squash, when they are on sale.
What vegetable combination will you try?