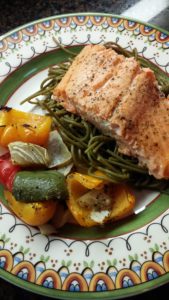 What's For Dinner?
If you're the everyday 'chef' in your family then you've heard this question hundreds of times before – What's for dinner? When I planned this dinner, I thought it would be a family-pleaser and I was right. I bought a nice piece of fresh salmon as the star of the show and since we are a family of seafood lovers, it was right on target. I try to cook 2 fish meals per week for deliciousness (is that a word?) as well as great health benefits. Do you?
What's On-The-Side?
I grew up eating a dinner with protein, vegetables, and starch on my plate, and I'm a fan of nutritional balance. For me, it's like putting together a puzzle and I have fun mixing and matching side items with a dinner entree. This salmon dinner, for example, was a tasty combo of green spaghetti and roasted Bell pepper chunks & onions. I seasoned the spaghetti with olive oil, salt, pepper, and garlic powder, in a simple, Mediterranean style.
Getting Kids to Eat Their Vegetables at Dinner
Kids aren't always best friends with vegetables and sweetening them up by roasting can get kids to give them a taste. I typically roast vegetables on a large sheet pan and do a few vegetables at one time. This dinner was a mixture of colorful Bell peppers and onions roasted and served next to the savory salmon and seasoned spaghetti. Speaking of spaghetti, I think all kids would like to try green spaghetti, don't you? When you spot a new grocery store item that's made with green vegetables, like I did, be bold and give it a try! To make a fresh start in your kitchen, grab my Mediterranean Meals report – it's free! And for many ideas on how to get kids to eat and enjoy their vegetables, don't miss my Busy Moms book.
What are your favorite salmon meal sides?