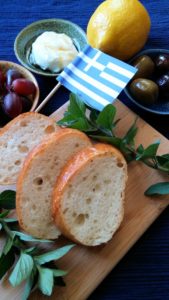 Enjoying the Simple, Mediterranean Foods of Greece
There's nothing like the simple and delicious foods of Greece. Sure – you've been to a Greek restaurant. You've been to a Greek food festival. You've been to a Greek friend's home and savored the home cooking of her/his mother. All of these experiences are super enjoyable and even memorable. But, have you ever thought about how the simple, Mediterranean foods of Greece could become your favorite way to eat day-after-day, like a fresh and new lifestyle?
Understanding the Health Benefits of Simple, Mediterranean Foods of Greece
Scientific studies show year-after-year that by eating simple foods, like those preferred and eaten in traditional Greece, a long list of health benefits will result. For example, by consistently making your meals and snacks out of traditional Mediterranean foods and living actively, you will likely reduce your risk for all of these: heart attack, stroke, dementia including Alzheimer's Disease, diabetes, arthritis, obesity and high cholesterol. Even if you begin with a traditional Mediterranean foods habit in mid-life, there is good news that your health will be protected. And, recent research results show that the 'healthy fat' in Mediterranean-style foods is perhaps a big reason why.
Special Simple Foods of Greece
If you take a look at my picture above, you'll see what I mean by simple foods of Greece. Starting at the upper left and moving clockwise, think about the tasty flavors of fresh grapes, plain Greek yogurt with honey, fresh lemons, Greek olives (and olive oil), fresh oregano, and fresh bread. These are a great place to start your Greek-style pantry and there are many more such as fresh tomatoes, cucumbers, eggplant, sweet peppers, walnuts, fresh dill, fresh garlic, fresh figs, and more. A traditional Greek meal may also feature a charcoal grilled meat like lamb, pork, or goat and as a country literally surrounded by the Sea, Greek seafood meals are common and delicious.
Enjoying the Simple, Mediterranean Foods of Greece Every Day
Changing to healthier lifestyle habits, including Mediterranean nutrition, isn't easy. It's definitely easier, though, when you taste delicious flavors meal-after-meal, and you feel healthier day-after-day. My advice is to give it a try: for example, stock your kitchen with the simple foods of traditional Greece, learn to plan some Mediterranean-style meals, and stick with it for a solid month. Here's a look at 10 simple meals to get you started as you enjoy every Mediterranean bite.
Have you tried preparing a Greek-style meal lately & what was on your plate?