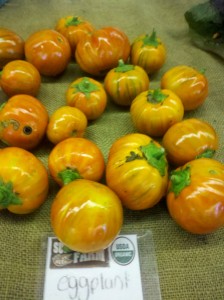 My Surprises this Week!
Normally, I have a pretty good grasp on identifying summer vegetables. In fact, I love to learn about and try new varieties of local favorites like kale or leaf lettuce or tomatoes. But this week, I was surprised 3 times by summer vegetables. Elephant garlic caught me off-guard with its mild flavor and huge cloves; blue potatoes amazed me when the color didn't disappear in the pot; and Turkish orange eggplants (see photo to the left) totally fooled me at the Farmer's Market.
Cooking with Summer Vegetables!
It can be a little overwhelming to put 1 or 2 brand new summer vegetables into your weekly shopping basket whether you buy from the grocery store or a farm market. It can also be healthy and fun so remember to keep it simple as you learn to prepare the new things.
I prepared my 3 summer vegetable surprises like this, very simply:
1. Elephant garlic: I peeled one garlic clove, smashed it and then minced it finely to add to my salad dressing along with oil, vinegar and a small squirt of mustard.
2. Blue potatoes: I boiled these unique potatoes along with a few white potatoes until they were soft. Then, I let them cool and cut them into chunks for a beautiful, tw0-tone potato salad.
3. Turkish orange eggplant: I cut each round eggplant into wedges and then oven-roasted them with onions and a little olive oil as a tasty side dish.
Trying Something New & Delicious!
Summer is a perfect season to try new and delicious foods – especially vegetables. You may have to look beyond your 'comfort veggies' like cucumbers, broccoli, lettuce and green beans but just think what you will gain — nutritional variety, rich new flavors and new cooking skills. There's so much to gain and absolutely nothing to lose by adding summer vegetables to your meals! Join me on facebook for fun tips and tiny recipes you can try this summer, including those with summer vegetables. Good nutrition is always worth the extra effort!
What vegetable surprised you this summer?