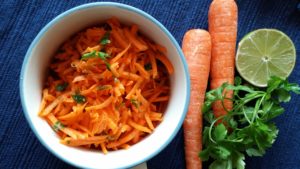 Tangy Carrot Salad is a Versatile Side Dish
This twist on plain old carrots is a dish I make often as a cold and colorful side. The flavor and nutrition is simply hard to beat. Last month, I made brunch for some good friends and the menu was this: my Easy Egg Frittata (you've got to try it), Tangy Carrot Salad (recipe right here – below), Lucy's Homemade Whole Wheat Bread (my friend Lucy makes the best), and my Healthy Pumpkin Pie (you make it in the blender)!
Tangy Carrot Salad Recipe
Makes 6 servings
4 large                                  Carrots
½ medium                           Lime, juice only
2 tablespoons                   Olive oil
1 tablespoon                     Spicy mustard
1/8 teaspoon                     Salt
1/8 teaspoon                     Pepper
Peel carrots and remove both ends.
Rinse carrots in cool tap water and pat dry.
Grate carrots with a hand grater or food processor.
Place carrots into a medium sized bowl.
In a small bowl or liquid measuring cup, make a dressing by mixing up the lime juice, olive oil, mustard, salt and pepper with a whisk.
Drizzle the dressing over the carrots and stir up to mix well.
Nutrition per serving: 60 calories; 4.5 gm fat;  0.5 gm saturated fat; 0 trans fat;  0 mg cholesterol; 110 mg sodium; 5 gm carbohydrates; 1 gm fiber; <1 gm protein
Tangy Carrot Salad is a Crunch Worth Trying
When you need a new idea for cooking and eating at home, please try this Tangy Carrot Salad Recipe. It ticks all the boxes with its simple ingredients, quick and easy prep, and tasty results. To stay up-to-date with other new recipes and tips for good nutrition, like my facebook page today!
Will you try this tasty carrot recipe at brunch, lunch, or dinner?