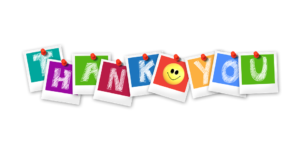 As the year ends, there are many people I want to thank for trusting me as a registered dietitian and nutrition business owner. In no particular order, I'm eternally grateful to my private counseling clients, my group client leaders, my consulting project managers, my professional colleagues, and my 'tribe' who follow all the good nutrition tips, tricks, and solutions I put out there day-by-day. Thank you all!
Thank you for Trusting Me
Always with your best interest as my goal, I make an ongoing effort to customize your individual care and your group wellness presentation. I try my best to encourage your most positive nutrition behaviors. I work hard to find practical solutions and fun ways for you to learn. Why? Because good nutrition leads to you feeling well physically, having a positive attitude mentally, and performing whatever you do best with clarity, humor and pep!
Thanking You in Years Past
Happy New Year!
To learn more about Market Basket Nutrition and how I can help you to navigate your nutrition journey, click here.
What will you do to celebrate good nutrition in the New Year?