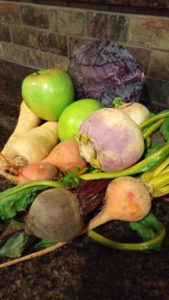 It was a nice surprise when I walked into my local produce market in the last week of January. My expectations were low as this is not really the growing season of the year. As I looked at my choices, instead of feeling frustrated and limited, I easily found fresh ingredients that work in my winter, comfort food kitchen. My lesson was this: Embrace each season of the year and buy mostly what's in-season. Left to right in my picture, I bought these vegetables:
Parsnips
Purple cabbage
Golden Beets
Red Beets
Purple top Turnips
Acorn Squash (not in the picture)
Granny Smith Apples (not a vegetable, ha ha)
Root Vegetables are Versatile
Make Soup: Making a vegetable soup or stew is a great way to warm up in the winter. If a crock pot or slow cooker is in your pantry, then get it out and start cutting up the roots. Here are 4 homemade soup recipes.
Roast Them: Roasting root vegetables is a great way to enjoy roots such as parsnips, carrots, fennel, onions and beets. You might be surprised at how sweet they turn out. Here's an easy recipe for roasted vegetables.
Mash Them: Boiling until soft and mashing up roots is an amazing way to feature these winter veggies. Try it with turnips, sweet potatoes, white potatoes, rutabagas, or celery root. Mash together 2 or 3 of them for something new.
Cabbage is Tasty Raw or Cooked
Winter Coleslaw: A winter coleslaw is a great way to brighten up lunch or dinner. The purple cabbage adds great color to a coleslaw when you mix it half-and-half with green cabbage. Also, grating up a carrot adds color and nutrition. Shred up 1/4 of a green plus 1/4 of a purple cabbage. Shred up a carrot or 2 and add to the cabbage in a big bowl. Then make a super simple dressing of 2-3 tablespoons vinegar and 2-3 tablespoons extra virgin olive oil. If you want a slightly sweeter flavor then also add 1 teaspoon pure maple syrup. For a finishing touch, slice up 1 fresh apple and 1/2 cup toasted walnuts and add to the bowl. Season with a pinch of salt. Stir everything together and enjoy. (Tip: Use the leftover coleslaw on your lunch sandwich.)
Winter Roasted Cabbage Wedges: To whip up a roasted vegetable quick, go with cabbage wedges. It works with purple or green cabbage and cooks in 20 minutes. Cut 1/2 cabbage into 1 inch wedges. Lay them on a sheet pan as you preheat your oven to 425 degrees. Add a spritz of extra virgin olive oil to the wedges and sprinkle them with salt, pepper, and dried oregano. Bake for about 20 minutes and enjoy.
Winter Nutrition
When the weather is cold and you need to brighten up your meals then it's time to add winter vegetables to your shopping list and your meal plan. Take time to experiment with root vegetables, and give purple cabbage a try. For ongoing ideas about better nutrition for you and yours, grab my free menus and like my facebook page .
Which vegetables will you try this winter?