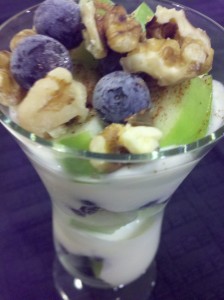 Yogurt & Fruit Go Together – Deliciously!
There are some tasty foods that seem to pair together perfectly. I put yogurt and fruit in that category because it seems like no matter which flavor yogurt you choose, or which fruit, the combination is hard to beat. Flavors sing and the nutrition punch is a knock-out! Here's a favorite recipe of mine to try as part of any meal, snack or dessert. Kids absolutely love it, too!
Make-Your-Own Yogurt & Fruit Parfait

Kids can help by measuring the ingredients and making their own creative parfait, with supervision. Use any fruits you like.

Makes 4 servings
1 large                   Banana, sliced
1 cup                     Pineapple tidbits from a can, drained
1 cup                     Berries such as raspberries, strawberries or blueberries, washed
1 1/2 cups            Vanilla low fat yogurt
1/2 cup                 Graham cracker crumbs
Get out clear parfait glasses or every day cups, one per person.
Place all fruit on a large plate or bowls with a spoon(s).
Place yogurt in a bowl with a small ladle or spoon.
Place graham cracker crumbs in a bowl with a spoon.
Take turns, passing the fruit, yogurt and graham crackers around the table and let everyone make a colorful parfait in layers.
Have a family contest for creativity and award everyone a prize!
Nutrition per serving: 190 calories; 2.5 gm fat; 1 gm saturated fat; 0 trans fat; <5 mg cholesterol; 125 mg sodium; 39 gm carbohydrates; 3 gm fiber; 6 gm protein; 2% DV vitamin A; 50% DV vitamin C; 20% DV calcium; 4% DV iron
Easy Family Recipes Make Healthy Cooking at Home a Big Success! It's time to re-vamp your kitchen routine to include simple, scratch recipes and more meals cooked at home. Changes such as these lead to success for families who want to feel great and stay healthy. Consider these meal planning and recipe e-books as an affordable and sensible place to start.
Where will yogurt and fruit fit into your meal planning this week?