A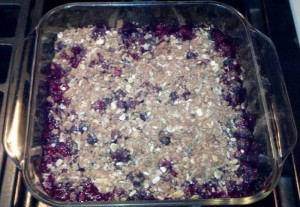 Little History
Long ago, blueberries were called star berries by Native Americans because of the star-shaped spot where the blossom develops into the berry.
Awesome Nutrition
If you just love blueberries, like I do, then consider yourself lucky. No matter what you call them, these little blue dynamos are showing up at the top of lists of the healthiest foods we can eat…even as dessert!
Blueberry Crisp Recipe
A dessert rich with healthy fruit and not too much added sugar!
Kids can help by washing the fruit, measuring the ingredients and crumbling the topping, with supervision.
Makes 6 servings
4 cups Blueberries, fresh or frozen
1 Tablespoon Lemon or lime juice, the amount of juice in ½ lemon or lime
1/4 cup Sugar
1/2 teaspoon Cinnamon
Topping:
2 Tablespoons Butter, unsalted, or buttery spread with 0 trans fat
1/4 cup Whole wheat flour
1/4 cup Oatmeal, old fashioned or quick (not instant)
1/4 cup Brown sugar, packed
Preheat oven to 375 degrees. Lightly spray a 9 x 9 inch baking pan with vegetable oil spray.
Place fruit into the pan.
Squeeze lemon or lime juice evenly over fruit.
Sprinkle sugar and cinnamon evenly over the top of fruit.
Mix topping ingredients with a fork, pastry blender or very clean hands until crumbly. Sprinkle topping evenly over fruit.
Bake 25-30 minutes until the fruit is tender. Do not overcook or the fruit will become mushy.
Nutrition per serving: 190 calories; 4.5 gm fat; 2.5 gm saturated fat; 0 trans fat; 10 mg cholesterol; 0 sodium; 37 gm carbohydrates;