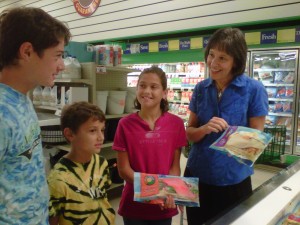 Supermarket tours bring nutrition education to life and, by conducting tours on a regular basis, you will become the "go to" nutrition and wellness expert you really are!
Would you like to put together a tour for busy moms, busy dads or a diabetes outpatient group but you're uncertain where to start and how to do all the planning needed for spectacular results?
Would you like to learn how to approach a store manager, get permission and recruit a tour group?
Just imagine how it will feel to have an experienced supermarket dietitian to guide you through all the steps you'll need.
And, the choice of educational tour will be up to you!
---
You will:
Complete a 7-part questionnaire provided by me, to get organized.
Then:
We will schedule a 45 minute phone call to work through the form together.
At the end of 45 minutes, you will feel comfortable planning and executing your custom store tour.
After your first supermarket tour is complete, we will schedule a 15 minute phone call to review the results.
Questions?
Feel free to email me: cindy@marketbasketnutrition.com
Cindy Silver is a licensed registered dietitian with 17 years of experience in the retail food industry at Lowes Foods in Winston-Salem, NC. She has conducted grocery store tours for countless adult and kids' groups on a wide variety of fun topics. Cindy also conducts one-on-one tours for her private clients.
Your initial financial investment:
$150
Your sustainable future investment:
Priceless!