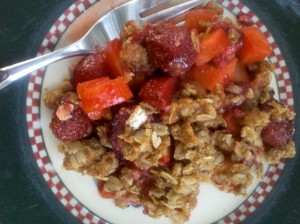 Fruit for Dessert
Strawberries or apples make a healthy dessert – all by themselves. But, if you're like me, you crave a 'real dessert' sometimes, too. I decided to dress up dinner beyond the ordinary this week with my invention of Strawberry Apple Crisp. Oh my, was it tasty! If you crave blueberries, then try my Blueberry Crisp Recipe, too.
Strawberry Apple Crisp is a Healthy Dessert
My healthy dessert is a combination of local, fresh strawberries and Granny Smith apples with an oatmeal-based topping. Yes, there is a little butter and a little sugar in the recipe; however, my fruit crisps include less sugar than most other recipes. And, the fruit is full of nutritional richness with vitamins, fiber and phytochemicals to keep you out of the doctor's office. Like that!
How to Make Strawberry Apple Crisp
1. Wash, peel and dice 2 cups Granny Smith apples. This is about 3-4 small or 2 large apples.
2. Wash fresh strawberries and cut larger berries in half. Measure out 2 generous cups strawberries.
3. Mix together the fruit in a 9 x 9 baking pan and squeeze the juice of 1/2 lemon over top.
4. Sprinkle 2 tablespoons white sugar and 1 teaspoon cinnamon over fruit.
5. Mix together crisp topping: 1/2 cup oatmeal + 1/4 cup whole wheat flour + 2 tablespoons brown sugar + 2 tablespoons butter. Use a fork or your clean fingers to crumble the topping. Then spread it out over the top of fruit.
6. Bake your crisp in a 350 degree oven for about 25 minutes. Remove from oven and cool 20-30 minutes. Enjoy.
Healthy Desserts Move You Closer to a Healthy Lifestyle
After a nice meal, do you wonder…what's for dessert? If you do, it's time to steer your dessert in the healthy direction. What I mean by that is a satisfying finish to the meal that is not overboard in sugar, fat and calories. The Strawberry Apple Crisp is a healthy dessert. A single cookie – homemade with whole grain flour and/or almond meal — is another healthy dessert. Step up to a healthier lifestyle with the strength to limit your traditional, sweet desserts and to feel proud as you set a more nutritious example for those you love, at home. My recipe e-books are a helpful resource to help you make the change!