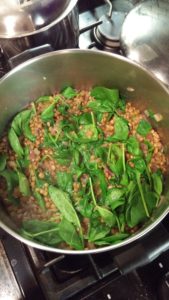 Homemade Soup!
I know, making homemade soup may sound hard. But, remember, so did riding a bike or learning to roller skate or to play the piano or to drive. Get my drift? Anything seems hard until you give it a try and then practice it. So, I encourage you to try making homemade soup for many reasons: the comfort food flavors, the great nutrition, the filler-upper effect, and the delicious leftovers. Here are a few homemade soup recipes I've shared earlier on my blog so maybe one of these will grab your attention. After you get more confident at making homemade soup, be sure to try other kinds, too.
Easy Meals with Homemade Soup!
Soup & Sandwich: Any homemade soup goes with a tuna or egg salad sandwich.
Soup & Salad: Any homemade soup goes with a big spinach salad with cut up tomatoes, cucumbers, Bell peppers, olives and a scoop of hummus.
Soup & Omelet: Any homemade soup goes with a light and tasty egg omelet.
Soup & Pizza: Any homemade soup goes with a slice of pizza.
Soup & Crackers & Cheese & Fruit: Any homemade soup goes with whole wheat crackers, spreadable goat cheese, and a sliced apples or pear
Start with Soup!
When there's a chill in the air, homemade soup is a perfect recipe category to learn. There are hundreds of soups and every one of them helps you become a better soup cook. For a healthy bowl of soup, make the ones with lots of vegetables in the ingredient list — and not too much heavy cream. Otherwise, go for it! To learn about other healthy recipes, meals, and snacks, pick up my free meal report and check out my good nutrition services, for individuals and groups.
Which homemade soup will you try to make this week?