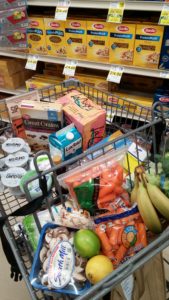 A Nutritious Grocery Cart
Some careful thought before, during, and after your grocery trip is a must. Think about it — what goes into your cart also goes into you. Right? So planning ahead, writing a list, slowing down as you walk the store, and reviewing your cart are essentials. Or, perhaps you'll just have to wait a few years for a supermarket of the future kind of experience.
Filling Your Cart Aisle-by-Aisle
Doing a big shopping trip is different than a milk & bread only trip. The big trip hits your wallet harder and it can ease your stress at dinnertime. So, take your time and think through every purchase. Even if you use an order-ahead shopping service at your local grocery store, don't leave out this important step.
My Grocery Cart Fill-Up
When I went shopping after a recent 4-day out of town trip, I needed to stock up. Here's a run-down of what I bought and why?
I bought bananas, broccoli, carrots, mushrooms, spinach, a lemon and lime in Fresh Produce. This, along with some local apples I already had on hand, will get me through the work week.
I bought on-sale goat cheese with honey and sliced almonds at the Deli. This cheese is so delicious on a whole grain cracker for a snack any old time.
I bought canned kidney beans, black beans, lentils, and tomato paste in the canned veg aisle. These are replacements for what I used up last week in chili con carne and lentil soup.
I bought an eye of the round roast and asked the Meat Department butcher to cut it into 2-inch chunks for me. This went into a crock pot this morning to make an Easy Beef Stew.
I bought decaf green tea in a bulk package. This stocks me up for my favorite hot beverage.
I bought a favorite whole grain cereal with dates and pecans. This is a refreshing afternoon or evening snack with 1% milk.
I bought on-sale whole grain pasta in two different shapes. When this favorite brand is on sale, I stock up.
I bought grapefruit-flavored seltzer water in 12-ounce cans in the Beverage Aisle. When I head out in the car, this is my go-to for staying well hydrated. Otherwise, I drink from a bulk seltzer container at home.
I bought a variety of Dairy Department items such as plain yogurt, Greek vanilla yogurt, 1% cottage cheese, and sliced provolone cheese. These are basics in my kitchen.
Your Grocery Cart Fill-Up
Grocery shopping is a universal and ongoing chore. So, why not make it more efficient and more nutritious? My example above of a grocery cart fill-up will be something you can learn from, hopefully. Take it step-by-step and master a new aisle of the store week-by-week. My free report is about nutritious meal planning so please take advantage of it. On facebook, I give a tip about good nutrition every day.
How do you get prepared for a nutritious grocery cart fill-up?