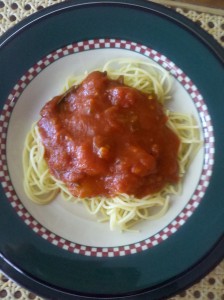 Homemade Marinara Spaghetti Sauce
This rich and tasty red sauce will make the whole kitchen smell good!
Kids can help by measuring the ingredients, tearing the basil leaves and stirring, with supervision.
Makes 4 servings
2 Tablespoons    Olive oil
2 cloves                  Garlic, peeled and minced
2 cups                     Crushed or diced tomatoes in a can
2 Tablespoons     Water
Pinch                     Red pepper flakes
1/8 teaspoon     Salt
8                              Fresh basil leaves, torn into small pieces
Heat a medium-size skillet or frying pan on the stove to medium heat.
Place olive oil and garlic into the pan. When garlic begins to sizzle, cook about 3-4 minutes, stirring. Garlic will turn golden.
Add canned tomatoes and all remaining ingredients to the pan.
Cover pan with a lid and simmer over low heat, stirring once every 5-10 minutes.
Simmer sauce for 45-60 minutes to develop flavors.
Nutrition per serving: 100 calories; 7 gm fat; 1 gm saturated fat; 0 trans fat;  0 cholesterol; 300 mg sodium; 9 gm carbohydrates;  2 gm fiber;  2 gm protein; 15% DV vitamin A; 20% DV vitamin C; 4% DV calcium; 8% DV iron
Cooking Tip: For a change, add 6-8 sliced mushrooms or a cup of leftover,  cooked broccoli florets.
Serving Tip: Serve with cooked spaghetti, ziti or rotini pasta.
Make it Homemade for Great Flavor and Health!
If you are ready to make homemade your new kitchen goal then a kitchen recipe resource will become your best friend. These easy-to-use recipe and menu planning booklets are the answer to your goal and a fresh start this year!