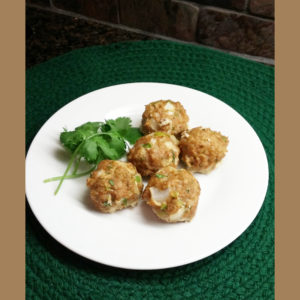 Everyone Loves Meatballs
I'm not sure I've ever met anyone who dislikes meatballs. Even my friends who are vegetarians usually like – yes – vegetarian meatballs. Sounds a bit unusual, maybe, but you can actually make them from lentils, chickpeas, soybeans, oatmeal, quinoa and brown rice. The list of interesting, plant-based ingredients goes on and on. For this blog, I'm going to stick to meatballs made from meat and I hope to expand your horizons on all the possibilities.
Have you Tried Baked Meatballs?
Instead of frying, I have a really easy recipe that I use to make baked meatballs. As you may already know, baking is a lighter and healthier cooking process than frying because in baking you miss all the fat and calories of the frying oil. You also have less cleanup – yay. With meatballs, the neat thing is that they can be made from ground beef, ground turkey breast, or lean sausage – and then baked. And, each one has a unique flavor but can use the same, basic recipe. As you mix the meatball ingredients together, it's up to you if you want to add a chopped up fresh herb, extra chopped up onions, or a fancy spice. In my kitchen, a handful of chopped parsley is a must-add, and for you it might be cilantro or basil.
Easy Baked Meatball Recipe
Here is my easy-to-do recipe that will get you going with tasty and light meatballs. After they're cooked and cooled, you can freeze these meatballs for 1-3 months so I recommend you make a double batch!
Lean Little Meatballs    Makes 6 servings, 18 meatballs
1 pound               Ground beef, sirloin, 90% lean – or substitute ground turkey breast or lean sausage*
1/8 teaspoon     Salt
1/8 teaspoon     Cayenne pepper (optional)
½ teaspoon        Garlic powder
½ teaspoon        Onion powder
½ cup                  Oatmeal, dry uncooked
1 large                  Egg
½ cup                  Nonfat, skim milk
*Note: Leave out salt ingredient if you make a sausage meatball because it will be salty enough.
Preheat oven to 400 degrees.
Measure all ingredients into a large mixing bowl.
With very clean hands, mix ingredients together. Or, use a big spoon.
Get out a baking sheet pan and cover it with parchment paper, to make cleanup easier.
Roll meat mixture into 1-1 ½ inch balls and place on the parchment-covered pan in a single layer, one inch apart.
Bake for 15 minutes.
Let little meatballs cool on pan.
Nutrition per 3 meatball serving: 190 calories
Meatballs in a Balanced Meal
Eating nutritionally-balanced is a smart way to do dinner. So, when you make meatballs, be sure to add a whole grain and a non-starchy vegetable to your plate, too. The beef meatballs go great with whole wheat spaghetti, Marinara sauce, and broccoli. The turkey meatballs go great with brown and/or wild rice and snow peas. The sausage meatballs go great with a small ear of corn-on-the-cob and a leafy green salad. Take the good nutrition leap forward by checking out my Facebook daily nutrition tips. Or, better yet, invest in your family's nutrition and health with my free report about easy weekday meals!
What's your memory of eating meatballs for dinner or at a family party?