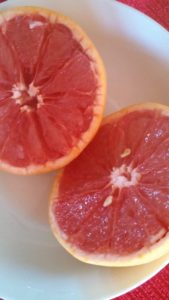 Client Thanks
To all my nutrition clients, individuals and groups, I thank you for trusting me and for opening your eyes and ears to new possibilities of better personal nutrition. You have not only listened, but you've tried and tested and changed your habits as you've added a healthy dose of nutrition to your day. I'm inspired by every one of you and look to a bright future as you stay strong in your commitment to caring about nutritious food as your new path – forever. Here are 7 things I've learned from my clients.
Open a New Year with Tasty Nutrition
New Foods
As I opened a fresh pomegranate this morning and mixed it into my yogurt with a drizzle of honey, I realized a similarity with beginning a New Year. For me, trying new and interesting foods is so much fun. Each year, I try to open my mind and my kitchen to something new. Some of my latest picks are pomegranates, chaote squash, dry black beans and turnips. It's amazing but when I add one of these to my grocery list and buy it, I begin the hands-on learning in my kitchen. For most of us, hands-on learning is what really sticks. Do you agree?
Citrus Fruits
While I open my mind and kitchen to new foods in a New Year, I also open my mouth to seasonal foods that I've enjoyed all my life. For example, in winter, citrus fruits are at their peak and I'm in heaven. I add all kinds of citrus fruits to my grocery list and eat them for breakfast, lunch and dinner. Here are some tips for eating more citrus fruits and I hope you'll try a few.
Homemade Soup
Another seasonal favorite for me is homemade soup. Just about any day of the week is right for soup and salad, soup and sandwich or a soup and cracker quick meal in my New Year. Big soup pot — here I come — and here are some soup recipes you might like to try this winter.
Open a New Year with One Step 
The rewards of eating good nutrition await all of us, as a New Year approaches and every day of the year. Take your first step today and another step next week or next month. Every small change you make will move you closer to feeling well and staying out of the doctor's office. Really. Take advantage of my free report with 3 Tasty Menus and Happy New Year!
How will you put a positive spin on your nutrition in the New Year?