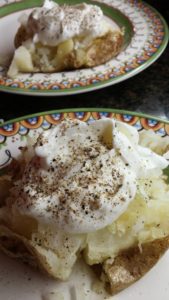 I grew up eating a lot of baked potatoes. It was one of my mother's go-to dinner starches that was easy to make for our family of 5. Nothing fancy, just a little butter and once-in-a-while, a bit of sour cream. Then, about 10 years ago, baked potatoes and baked potato skins rocketed themselves onto every restaurant menu. The big difference is that modern baked potatoes and skins are all about the decadent toppings, right? There's butter, sour cream, and lots of melted cheese. And, don't forget the bacon.
A Modern, Loaded & Nutritious Baked Potato
Yes, it's easy to put together a super delicious baked potato that's packed with good nutrition – really. If you enjoy a baked potato, then it will hit the spot on comfort food for you, too. The potato on the left is a Norkotah Russet Potato that's topped with minced fresh garlic and onions, a big dollop of nonfat Greek plain yogurt, and a generous sprinkle of fresh ground black pepper. As a final topping, drizzle it with a tablespoon of extra virgin olive oil for extra flavor and healthy fat.  Wow tasty!
Other Nutritious Substitutions and Tips
Life is an adventure, so please give these 7 subs a try in your kitchen as a way to switch over to better nutrition. You may be surprised at how much better you feel with a lighter and healthier options in your recipe or on your plate.
Greek Nonfat Plain Yogurt – Subs for sour cream or mayo. So, try it on your baked potato or mixed up in your chicken salad or tuna salad. Or use it to make deviled eggs.
Grated Parmesan – Subs for cheddar cheese. So, try it on top of your pizza or inside your omelet.
Fresh Herbs like Cilantro, Basil and Mint – Subs for bacon bits. So, try them as your salad or pizza topping. Or, go all out and add fresh herbs into your smoothie.
Fresh Spinach – Subs for lettuce. So, stuff it into your pita, panini or any sandwich.
Chopped Apples, Cranberries or Raisins – Subs for chocolate chips. So, stir them into your pancake or muffin batter. For a holiday treat, try this cranberry, corn and orange muffin.
Fresh Lemon or Lime Juice – Subs for bottled salad dressing. So, squeeze it on.
Extra Virgin Olive Oil – Subs for ketchup. So, dip your baked French Fries in it.
Nutritious Substitutions Can Get You Where You Want to Go
Being open-minded about better-nutrition substitutions is super important. Why? Carefully chosen subs expand your nutritional variety, they make your meals more exotic and fun, and they bring higher quality nutrients to you for a healthier future. To keep up with new ideas about good nutrition, meal planning, and smart grocery shopping, Like me on Facebook and grab my free meals from the Mediterranean report – today!
Which nutritious substitution surprised you and why?