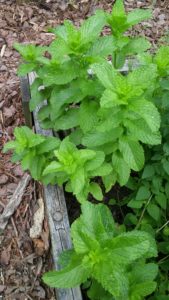 Fresh Mint is an Easy Herb to Grow
I grew up in a family of gardeners. My mom mostly enjoyed growing flowers and my dad liked growing vegetables. So, at least in the summer, we had a colorful yard and we also ate a bunch of homegrown vegetables for dinner. Fresh herbs were not a part of the mix for some reason, so I changed that when I got my first job and moved into a very small house of my own. I immediately planted some herbs in a small, sunny garden out back. Partly I grew herbs because they were easy to grow and partly I did it because I was getting very interested in cooking and wanted to use my own harvest in the kitchen. Of all the herbs I grew, by far the easiest to grow was fresh mint. In fact, it will grow just like a weed once it is established in the garden – so beware. Here's a resource with tips on growing mint, and other herbs.
Fresh Mint is Versatile in Your Kitchen
If you like the flavor of mint, then you can use the herb in many, many ways in your kitchen. Here are 5 ideas to get you started and then be creative on your own.
Hot or cold tea: Steep finger-crushed mint leaves in boiling water as you would for any cup of tea. Wait 3-5 minutes, and then drink. To make iced mint tea, simply pour the tea over a big glass of ice cubes, add a fresh lemon slice and a bit of honey.
Pasta, grain or bean salad with herbs: Make a simple salad from soaked, cooked and cooled, or out-of-the-can and drained beans. Or cook a grain or pasta, drain, cool and use this as your salad base. Add a handful of chopped fresh herbs including mint, basil, parsley, and oregano. Add cut up cucumbers and tomatoes, if you wish. Dress with 2 parts extra virgin olive oil whisked together with fresh lemon juice and a sprinkle of salt and black pepper.
Fruit salad: Add and mix in chopped mint to a fresh fruit salad or use the top mint leaf as a garnish, or do both.
Marinade for lean meat, chicken, or fish to cook on the grill: One – 4 hours before grilling out, make a marinade to add flavor to the center of your plate. Combine extra virgin olive oil with fresh chopped mint, a dash of balsamic vinegar, several cloves of crushed and minced garlic, salt and pepper.
Soup: Add a handful of chopped mint to jazz up any soup, especially when it's homemade like these soups.
Fresh Mint is a Starting Point for Growing More Herbs
Growing plants that you can eat is a fun and exciting hobby. Mint can be your starting point because it is an easy one. After you succeed with mint, then a next step will be to plant basil or oregano or parsley. Take a leap to tend the soil and you might be surprised how satisfying it can be. For healthy tips about gardening, meal planning, and cooking at home, sign up here. My free Menus for Busy Families is a handy resource for you!
Will you try growing mint, parsley, basil, or oregano this summer?