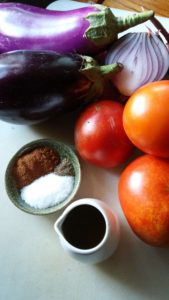 Eggplant and Summer
One of my favorite colors is purple. So, maybe that's why I was first curious about eggplant. The color is so beautiful and since we eat with our eyes, I hope eggplant will get your attention, too. When the sun gets really warm in July and August, there is a large supply of eggplant to buy at the grocery store or Farmer's Market. Or, pick it from your own vegetable garden if you are a grower yourself. Whatever, don't miss eggplant as a versatile and very Mediterranean vegetable that tastes great. Here's an eggplant recipe with an Italian twist and here's another eggplant recipe with a Turkish twist.
Now, on to the recipe called Yakne!
Yakne Recipe
This recipe originates from the Middle East as a meat and eggplant stew – very filling 'comfort food.' My recipe is a vegetarian version of the stew which is a bit lighter and totally features the bond between eggplant-onions-tomatoes of summer. The most surprising ingredient is ground cinnamon and it makes the stew 'pop!'
Ingredients:
1 Eggplant, large (or 2 small)
1 Onion, any color, large, chopped (or 2 small)
1/4 Extra virgin olive oil (EVOO)
2 Tomatoes, medium, chopped (or 2 cups cherry tomatoes cut in half)
1-2 teaspoons Salt, adjust to your taste
1/4 teaspoon Black Pepper, freshly ground
1-2 teaspoons Ground Cinnamon, adjust to your taste
How to make:
Wash eggplants and cut into 1-inch cubes. Eggplant does not need to be peeled.
In a large skillet on top of the stove, heat 2 tablespoons EVOO over medium heat. Add eggplant cubes and stir to lightly saute for 5-6 minutes. Eggplant will turn golden color on the cut surfaces as it cooks. Remove from pan onto a large plate.
In the same skillet, heat 2 tablespoons EVOO over medium heat. Add cut onions and stir to lightly saute for 3-4 minutes, until golden color. Turn off heat.
Add sauteed eggplant cubes back to the skillet.
Add all other ingredients into the skillet including cut tomatoes, salt, black pepper and ground cinnamon. Stir gently to mix well.
Transfer mixture to an oven-safe casserole pan or pyrex pan, oiled very lightly with EVOO to prevent sticking. Bake at 375 degrees, without a lid or cover, for 35-40 minutes. This finishes cooking/tenderizing the eggplant.
 Make it a Meal
To make your Eggplant Yakne into a balanced meal,
serve over brown rice or couscous with a salad of fresh cucumbers, onions and vinaigrette dressing and enjoy watermelon for dessert , or
serve with warm pita bread and corn-on-the-cob and enjoy cantaloupe for dessert
To get excited about eating more nutritiously and feeling your best, join my facebook group for daily tips, or visit my online store for easy-to-do meal plans and recipe booklets. If you're a busy mom, don't miss my book, Need Help Mom? Busy Moms Making Food Fun for Healthy Eaters! It will take the pressure off as you learn to plan and enjoy simple and nutritious meals and snacks with the kids.
What first got you interested in cooking with eggplant?